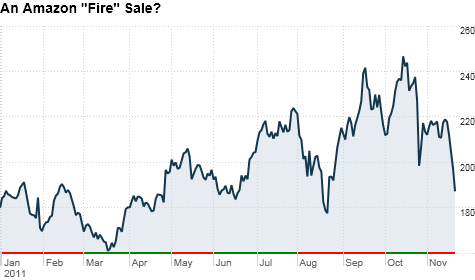 Shares of Amazon are still up for the year, but the stock has taken a huge hit in the past month despite expectations of strong demand for its Kindle Fire tablet. Click chart for more on AMZN.
NEW YORK (CNNMoney) -- Cyber Monday is a week away.
That means millions of industrious Americans will take a break from updating their status on Facebook, playing Angry Birds and watching the Biebs on YouTube to do something productive at work: shop for holiday bargains online.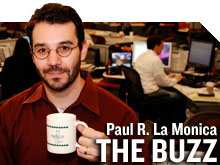 But even though 'tis the season for e-commerce, you wouldn't know it from looking at the stock of Amazon.com (AMZN, Fortune 500) lately. Shares of the online retail king fell nearly 10% last week and are now about 25% below the 52-week high they set just last month.
What's going on? Is this a year without a Santa Claus for Amazon shareholders? (I'm Mister Short Seller. I'm Mister Bear. I'm Mister Kindle Skeptic. I'm Mister Always Beware. They call me Amazon Miser.)
Well, there's some good news and bad news for Amazon. The good news is that there is nothing fundamentally wrong with Amazon.
Sluggish consumer demand is not a problem. Many analysts are predicting that the new Kindle Fire, which some feel could be the one tablet that may actually eat into Apple (AAPL, Fortune 500) iPad sales, could find its way into the stockings of 5 million people by year's end.
In fact, Wall Street is predicting that Amazon's total sales in the fourth quarter will reach $18.2 billion, up 40% from a year ago.
It's also worth noting that Amazon isn't the only online retailer whose stock has been hit lately. Shares of eBay (EBAY, Fortune 500), Overstock.com (OSTK) and Blue Nile (NILE) have fallen sharply in the past month too.
But Amazon is a classic case of a great company that has (yes, still has) a stock that's priced for perfection. And in case you haven't noticed, we are hardly living in a perfect world.
Shares trade at more than 90 times 2012 earnings estimates. That's insanely high given that analysts have been slashing their profit targets after Amazon reported third-quarter earnings that missed forecasts last month.
"Amazon is not immune to global economic concerns that have spooked the market," said Frederick Moran, an analyst with The Benchmark Company in Delray Beach, Fla. "And valuation is a concern for Amazon. Margins are under pressure in the short-term."
Moran is right on both counts. Amazon generates about 45% of its overall sales from international markets. It does not disclose how much of that is from Europe. But Amazon has a major presence across the Atlantic. That has to be considered a gigantic risk.
Amazon is also investing a lot in the future ... at the expense of earnings next year. Analysts now expect a profit of $2.05 a share for 2012. A month ago, the consensus estimate was for $3.20 a share.
The Kindle Fire is likely to be a proverbial loss leader, with Amazon subsidizing much of the costs. The hope is that consumers buy enough books, magazines and other digital content to make overall Kindle-related sales profitable.
Amazon also continues to spend a lot on Web services (i.e. its cloud business), free shipping and expanding distribution.
Now all of this may be a smart business strategy for the future. Amazon CEO Jeff Bezos should get a lot of credit for thumbing his nose at the short-term mentality of Wall Street.
Doing what's best for the long haul makes a lot of sense. And Bezos deserves the benefit of the doubt given how successful the company has been for the past 15 or so years.
But keep in mind why Amazon is making all these investments. It is in a hyper-competitive business and needs to constantly stay one step ahead of Apple and other rivals.
Along those lines, R.J. Hottovy, an analyst with Morningstar in Chicago, said that the recent news that Google (GOOG, Fortune 500) is finally entering the online music market may also be worrying some Amazon investors.
That's why now is not a good time to go chasing the stock. Hottovy said that because of Amazon's numerous investments, he would not be surprised if Amazon reports a small loss for the fourth quarter -- no matter how much people spend on Cyber Monday and throughout December.
"Amazon is still a solid company but it may be best to wait until fourth-quarter numbers come out in January before buying the stock again." he said.
Best of StockTwits: Starting with today's column, the Best of StockTwits feature that used to be a standalone story on CNNMoney will now be part of the Buzz.
Today, there's a lot of good chatter about the latest with Europe, concerns about investment bank Jefferies and the not-so "super" deficit committee. Here are the top tweets .. .with some comments of mine as well.
ReformedBroker: I'm hoping that when the French triple A rating gets cut, the agencies will be creative enough to use a guillotine.
Ouch. Will Moody's say "let them eat cake" to France?
jkings1: After rising over 200 bps over German yields, markets already saying France in not AAA. $FXE $SPY hint: this is not a euro periphery issue.
I've said that "PIIGS" is no longer the best Europe acronym. It's EBG: Everything But Germany.
FlyRyn: $JEF - Seems like everytime a major financial firm fights "false" rumors, they usually turn out to be true.
The numerous "we're not MF Global" press releases may be a Hamlet-esque case of the lady doth protesting too much. But in fairness to Jefferies, sell-off of this magnitude seems pretty irrational.
etfdigest: $SPY super committee was worthless from the get-go so no big deal beyond symbolic.
I wish that were true. Remember when people thought an S&P downgrade of the U.S. would be merely symbolic and was priced into stocks?
The opinions expressed in this commentary are solely those of Paul R. La Monica. Other than Time Warner, the parent of CNNMoney, and Abbott Laboratories, La Monica does not own positions in any individual stocks.