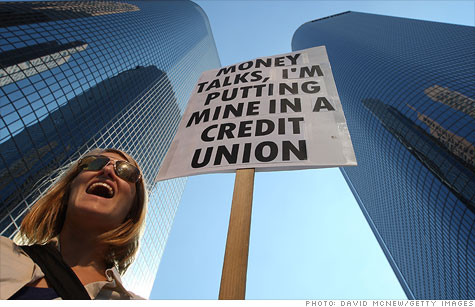 Credit unions have experienced surging membership following protests against big banks this year.
NEW YORK (CNNMoney) -- A national credit union group significantly lowered its estimate for the number of new members credit unions signed on in the weeks leading up to November's Bank Transfer Day protests against big financial institutions.
Last month, the Credit Union National Association reported that credit unions had added 650,000 new members between September 29, the day Bank of America (BAC, Fortune 500) announced a now-abandoned $5 monthly fee for debit card use, and November 4, the day before Bank Transfer Day.
On Monday, however, CUNA revised the number considerably lower, reporting that just 214,000 new members signed on during the month of October.
The organization said in a statement that the discrepancy with the earlier number is likely the result of ambiguous language in its previous survey, which may have caused respondents to confuse "new accounts" with being "new members."
According to its most recent monthly member survey for October, 400,000 new checking accounts were opened during the period.
CUNA spokesman Patrick Keefe noted that only about half of the nation's 93 million credit union members have checking accounts at these institutions, with others using only services such as savings accounts and loans.
Still, in September and October combined, 441,000 new members signed onto credit unions, representing 75% of member growth for the entire year, CUNA said.
"Regardless of the impetus for credit union growth -- either through new memberships, new checking accounts from existing members or a combination of both -- it is clear that consumers made a significant movement to credit unions in the weeks leading up to 'Bank Transfer Day,'" CUNA President Bill Cheney said in a statement.
Credit unions added approximately 40,000 new members on Bank Transfer Day itself, the CUNA said.