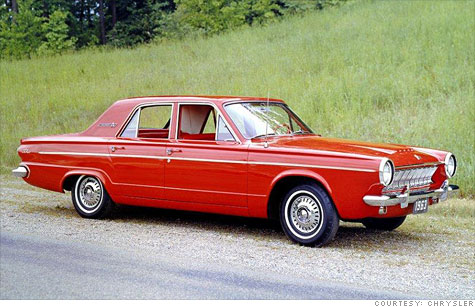 The Dodge Dart name was last used in the 1970s. This is a 1963 model.
NEW YORK (CNNMoney) -- Chrysler Group is tapping its history, resurrecting the Dodge Dart name for a new small car being unveiled at next month's Detroit Auto Show.
The Dodge Dart name was last used on a small car sold in the mid-1970s.
The car will be based on engineering shared with Italy's Fiat, Chrysler's parent company.
For now, Chrysler has released only two images of the car. One shows a close-up of the front corner. The other shows the rear of the car with taillights similar to those on the 2011 Dodge Charger.
The car will be built in Chrysler's Belvidere, Ill., factory. Fuel economy and pricing information for the car are not yet available. It will go on sale in the first half of next year.
The Dart will be adapted from the Alfa Romeo Giulietta sold in Europe, but it's wider and longer to better suit American tastes.
It will be available with three engine choices: 2.0-liter and 2.4-liter 4-cylinder engines and a 1.4-liter turbocharged engine.
The only small car Dodge sells now is the Caliber, a model that Chrysler and Fiat CEO Sergio Marchionne has said is not competitive.
"To call the Caliber a retail vehicle would be an abomination," Marchionne said during a meeting with reporters at last year's Detroit Auto Show.
Chrysler Group, which makes Chrysler, Dodge and Jeep vehicles, has been partnered with Fiat since emerging from bankruptcy in the summer of 2009.
In June, the U.S. Treasury Department sold its last remaining stake in Chrysler to Fiat. Providing Chrysler with a small, fuel-efficient car based on Fiat engineering was one of Treasury's requirements before the Italian automaker could take its majority stake in the company.