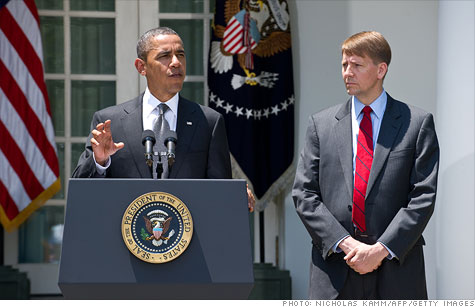 The Senate will vote Thursday on whether to confirm Richard Cordray, President Obama's pick to run the consumer bureau. The vote is expected to fail.
WASHINGTON (CNNMoney) -- The Consumer Financial Protection Bureau -- a point of pride in the Obama administration's efforts to reform Wall Street -- faces a key test in the Senate on Thursday over whether it will have a director with real power.
No one in Washington expects the Senate to muster the 60 votes needed to break a filibuster against confirming former Ohio Attorney General Richard Cordray to be the first director of the bureau. Senate Republicans have vowed since May to block confirmation of any director unless they get structural changes to the bureau, which was formed as part of the Wall Street reform law passed last year.
Nevertheless, the White House is making a big push this week. In July, the president nominated Cordray, bypassing Elizabeth Warren, who came up with the idea for the bureau and helped set it up.
President Obama made a public case for confirmation in a speech on Tuesday in Osawatomie, Kan., accusing Senate Republicans of refusing "to let him do his job."
"Every day we go without a consumer watchdog in place is another day when a student or a senior citizen or member of our armed forces could be tricked into a loan they can't afford -- something that happens all the time," Obama said during the speech.
What's at stake?
At stake are vast new powers the consumer bureau can't wield without a confirmed director. Until there's a confirmed director, the consumer bureau can't regulate financial products from non-banks, including student loan providers, debt collectors, payday lenders and check cashers.
Without a chief, it also can't regulate mortgage originators and servicers, which played a big role in the financial crisis for providing subprime mortgages to families who couldn't afford them in the years leading up to the financial crisis.
Those "toxic" mortgages ended up getting chopped into pieces and bought by the big banks that eventually needed government bailouts to prevent a repeat of a Great Depression, according to Federal Reserve chief Ben Bernanke. Bank of America (BAC, Fortune 500) is still in trouble in large part due to the remains of bad mortgages on its balance sheets.
Without a director, the independent watchdog agency can still regulate mortgages and credit cards that banks issue, a big part of those markets right now. But it can't regulate mortgages and credit cards issued by nonbanks.
Another thing the consumer bureau can't do is declare financial products deceptive or abusive and ban them, according to a Treasury Inspector General report.
The bureau also might not be able to force banks to issue the simpler mortgage disclosure form the bureau has been working on that's due out in 2012.
What Republicans want
Republicans say their filibusters has nothing to do with Cordray. They say it's about getting more oversight of the consumer bureau.
They want three big changes: They want to replace the director with a board, make the bureau ask Congress for money each year, and prevent the bureau from making rules that could threaten the health of financial institutions.
Republicans have complained for months that they've heard no answer from the White House about their proposals. But in a Senate Banking committee hearing in October, Treasury Secretary Tim Geithner basically told them no way.
"This is not about him (Cordray)," said Richard Shelby, the ranking Republican on the Senate Banking panel on Tuesday. "It's about the structure of this, a powerful monster as far as future regulation to overregulate our economy, create more regulations and fewer jobs."
The White House is trying to paint this filibuster as more Republican obstructionism. They've held conference calls and press calls all week, targeting lawmakers in Alaska, Indiana, Iowa, Maine, Nevada, Tennessee and Utah.
In a briefing on Wednesday, White House Press Secretary Jay Carney declined to say whether the president would consider a recess appointment when Congress isn't in session or other possible next steps.
He did say that the White House would not consider changes to the structure of the bureau and suggested the White House campaign to push Republicans may sway minds.
"There's time for (Republicans) to reconsider, and we hope they do," said Carney. "Politics is a wondrous thing and, sometimes, opinions change."