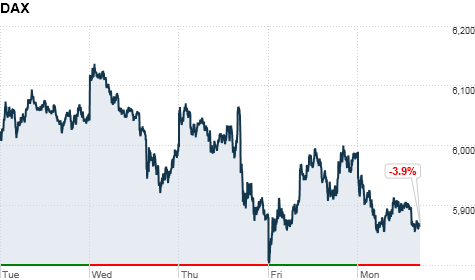 Click chart for more market data.
NEW YORK (CNNMoney) -- Investors lost their enthusiasm for Europe's latest attempt to solve its debt crisis, with European stocks sinking, Italian bond yields rising and Moody's saying the euro area is "prone to further shocks."
At the close of European trading, London's FTSE (UKX) fell 1.8%, the DAX (DAX) in Frankfurt dropped 3.4% and the CAC 40 (CAC40) in Paris declined 2.6%.
An auction of one-year Italian bonds generated solid demand but that failed to boost investor confidence, with the yield on Italy's benchmark 10-year bond heading back toward the worrisome 7% level. That was the level first crossed by Ireland, Portugal and Greece before all three of those nations eventually needed bailouts.
European leaders agreed to a new intergovernmental treaty at the end of a two-day summit Friday. But leaders have until March to hammer out the nitty gritty details and that's making investors nervous.
"The summit did produce what it was supposed to produce, but there is no solution to the immediate crisis," said Christian Schulz, senior economist at Berenberg. "The key disappointment today is the failure of the European Central Bank to act."
Many had hoped the ECB would announce plans to act more aggressively once the summit concluded.
Schulz said the ECB could have done something like set maximum yields for sovereign bonds, but the bank's post-summit silence is telling.
While ECB President Mario Draghi voiced his approval of the deal last week, he made no mention of any additional bond buying by the central bank.
The ECB has been buying bonds from eurozone nations under an emergency program enacted in November to try and stabilize the debt crisis. There has been a lot of pressure on the central bank to increase those efforts but Draghi has firmly said the ECB is only mandated to manage inflation.
The Italian government's bond auction on Monday was well-received, with €7 billion worth of one-year bonds selling for an average yield of 5.95%. But the prior month's auction generated slightly stronger demand, and the 10-year Italian bond yield jumped to 6.56%. Just last week, the yield on the 10-year bond had been moving closer to the 5% level than the 7% mark.
On top of that, the spread is widening compared with the German 10-year bond yield, which dropped to 2.02%. German bonds are considered the gold standard of stability and the widening spread suggests investors are banking on the "safety" of those bonds.
The lack of enthusiasm over the latest deal pressured U.S. and European bank stocks lower, with shares of JPMorgan Chase (JPM, Fortune 500) and Goldman Sachs (GS, Fortune 500) falling more than 3%. Bank of America (BAC, Fortune 500) dropped 5% and Citigroup (C, Fortune 500) plunged 6%.
Shares of Societe Generale slid more than 1% and BNP Paribas plunged 4%.
Investors are worried that ratings agencies Standard & Poor's and Moody's could downgrade one or more countries before March, when European leaders pledged to have finalized their fiscal pact.
"The possibility of a ratings downgrades of any of the AAA European countries, together with the potential for soft eurozone economic data, are likely to weigh on the market's appetite for risk," said Brown Brother Harriman strategist Marc Chandler.
On Monday, Moody's reiterated its plan to "revisit" the ratings of all European Union nations during the first quarter. And last week S&P put 15 of 17 eurozone nations, along with the entire EU and several banks on notice for a possible downgrade.
Fitch Ratings also weighed in, saying it expects growth in the eurozone to weaken even further next year.
Just last week, S&P's managing director of sovereign ratings expressed his lack of faith in the ability of European leaders to arrive at an effective consensus for curing the eurozone's fiscal ills.
"There have been a series or summits that have ended in prolonged public disputes among policy makers about the right diagnoses and the right approach," said Moritz Kraemer, during a conference call on Dec. 8. "That piecemeal and hesitant policy reaction has so far not been able to stem the crises let alone reverse it or return investor confidence."
Carl Weinberg, High Frequency's chief economist, projected that 2012 is going to be a dismal year for Europe with "an economic downturn on the scale and magnitude of the great depression."
He said the banking industry will be especially hard hit, with some banks likely to become insolvent and collapse. Any money that is used to recapitalize the banking system would be a "dead weight loss to the economy."
"This is the important thing to remember, that Europe is not the entire world," said Weinberg, in the most positive statement he could muster during a teleconference with reporters. "We're not talking about the end of the world, but we are talking about a new reality where Europe's star sinks and remains sunk for some time to come."
Ian Shepherdson, High Frequency's chief U.S. economist, said the U.S. is faring much better, with an estimated gross domestic product of 3% to 4% expected for the fourth quarter.
Meanwhile, Asian markets were mixed. The Shanghai Composite (SHCOMP) closed down by 1%. The Hang Seng (HSI) in Hong Kong edged down slightly and the Nikkei (N225) in Tokyo rose 1.4%.