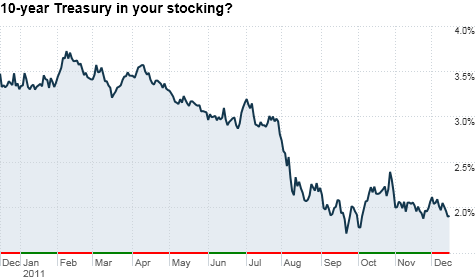 Investors have rushed to buy U.S. debt due to continued fears about Europe. That's pushed bond yields back near record lows from earlier in the year. Click chart for more on bonds.
NEW YORK (CNNMoney) -- If you were hoping for a Santa Claus rally in stocks, you might need to leave out some more milk and cookies.
Forget jolly old St. Nick. This has been the Krampus sell-off, which is fitting since Europe is mostly to blame. (If you don't know what the Krampus is .... Google it. But be forewarned, he's quite scary!)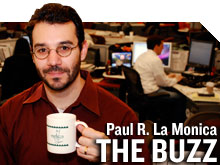 Even with stocks up a bit Thursday following an encouraging jobless claims report, the market's major barometers are still in the red this month. In fact, the S&P 500 and Nasdaq have each lost more than 2% in December.
But bonds are a different story. Stocks may be on the market's naughty list. But Treasuries have been nice. The yield on the 10-year Treasury ended November at 2.07% and has since fallen to about 1.9%. (Bond prices and yields move in opposite directions.)
The continued uncertainty in Europe -- the ratio of EU summits to favorable results is painfully high ... some would argue it is infinity since the denominator may be zero -- has sent investors scrambling back to the perceived safety of U.S. debt.
"These incremental solutions from Europe are not doing much. Rates will probably remain low in the U.S. because markets are reacting to the risks posed by Europe's challenges," said Guy LeBas, chief fixed income strategist with Janney Montgomery Scott in Philadelphia.
That's a bit troubling. The fact that investors still love T-bills as much as Denver Broncos fans love Tebow, even though rates are next to nothing, shows how fragile the global markets are. (After a gajillion references to Tim Tebow over on my Twitter feed, I finally get one in an actual column. Victory!)
"When the bond market rallies and the stock market isn't, that's bad news for the economy," said Keith Springer, president of Springer Financial Advisors, Sacramento, Calif. "Investors may be starting to worry about deflation. The real tell-tale sign is that gold is tanking too."
Gold is often considered the safest of safe havens, a hedge against inflation and political turmoil. But with gold prices back below $1,600, it appears traders don't want the precious metal anymore either.
The investments that seem most secure in a potential global economic slowdown are U.S. Treasuries and German debt. The 10-year bund is also yielding around 2%.
And looking ahead to 2012, this flight to quality trend may continue ... and U.S. bond yields could fall below their record lows. The 10-year Treasury yield dipped below 1.7% back in late September.
Steve Van Order, fixed income strategist with Calvert Investments in Bethesda, Md., said the 10-year yield could drop to 1.5% if Europe's financial mess gets even worse.
"The first quarter of 2012 will be key. There is a lot of refinancing in Europe that has to go on," Van Order said. "If the markets balk at auctions, European yields go higher and the ECB has to be a bond buyer of last resort, rates in the U.S. could break through the lows."
But LeBas wasn't sure rates will go that low. In fact, he thinks the 10-year could finish 2012 higher than where it is now ... but not by much. His forecast is for a 10-year yield of 2.28%.
That, he said, reflects more jitters about Europe, economic sluggishness in the U.S. and the likelihood that the Federal Reserve will announce a third round of long-term bond purchases or quantitative easing, a program that traders are already calling QE3, in 2012. If the Fed buys more bonds, that's likely to keep rates from heading too much higher.
But here's the thing. You can also make a compelling case that Treasury yields could shoot substantially higher.
Long-term bond rates probably shouldn't really be this low given some of the recent signs of recovery in the job market in the U.S. In addition, so many blue chip stocks pay dividends that yield more than Treasuries. That's not sustainable if the economy really is improving.
Bond yields would have to gravitate higher if people start worrying that all the easing measures from the Fed over the past few years will finally lead to higher levels of inflation.
It's just that Europe is THAT much of a wild card. The bond market could defy logic for awhile.
"In a normal market, long-term rates should be about 3.5% to 4% with inflation where it is now. But this is not a normal market," Van Order said.
Best of StockTwits: It hasn't been a happy holiday season for Amazon (AMZN, Fortune 500). FedEx (FDX, Fortune 500) delivers. And traders debate whether the gold bubble has burst.
ryanmcraver: All of a sudden everyone is worried about amazon margins. Hasn't this been an issue since they began business? $AMZN
Totally agree. Yes, Amazon's valuation is probably way too high. But it's hard to bet against Jeff Bezos. This is a company that is willing to take short-term profit hits if it means longer-term success. I think the recent sell-off is overdone.
MichaelComeau: $FDX avg package volume DOWN despite earnings beat, very interesting -- beat came on fuel surcharges.
Great point. FedEx surged Thursday on the earnings beat. And while lower volume is a negative, it's telling that FedEx has pricing power. That's a sign of a strong company.
KeithMcCullough: Silver and Gold are telling you some hedgies are going back to business school in 2012 $GLD $SLV
Either that or they'll be rushing to buy more Powerball tickets like those three money managers from Greenwich.
KidDynamiteBlog: listening to everyone vocally declare "the end of the gold bull market" almost makes me want to be LONG gold... $GLD
The pullback in gold has been remarkable. And it may be tempting to think it's close to a bottom. But I noticed you used the world "almost." Probably with good reason.
The opinions expressed in this commentary are solely those of Paul R. La Monica. Other than Time Warner, the parent of CNNMoney, and Abbott Laboratories, La Monica does not own positions in any individual stocks.