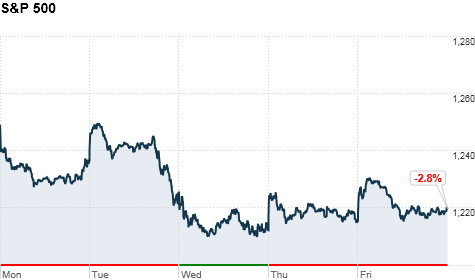 Click chart for more markets data.
NEW YORK (CNNMoney) -- Stocks ended Friday mixed after a roller-coaster week in which all three indexes each lost more than 2.5%.
After moving up more than 1% in the first hour of trading, stocks steadily retreated.
The Dow Jones industrial average (INDU) closed the day down 2 points, or 0.02%. The S&P 500 (SPX) moved up 4 points, or 0.3%. The Nasdaq (COMP) increased 15 points, or 0.6%. Both the Dow and S&P shed 2.8% for the week, and the Nasdaq dropped 3.4%.
Part of the sell-off came after Fitch put seven European countries on credit watch negative, citing the higher probability that it could downgrade these nations in the next few months. Still, investors breathed a sigh of relief that France, in particular, retained its pristine AAA rating.
Beyond France, Fitch Ratings also affirmed the ratings of Belgium, Spain, Slovenia, Italy, Ireland and Cyprus, while putting them on review for potential near-term downgrades Friday after the European markets closed.
"Everyone was concerned that France would lose its AAA, so overall investors are taking Fitch's moves as more of a positive," said Michael James, senior equity trader at Wedbush Morgan Securities.
Ahead of the opening bell, the government released its latest data on inflation, which showed consumer prices rose at a 3.4% annual rate in November. That was virtually unchanged from the prior month.
"The good news is that we've had slightly better economic numbers, but the bigger picture is there's no confidence," said Ted Weisberg, president of Seaport Securities.
Weisberg and other traders said volumes have been particularly light in the past week both ahead of the holiday break and because few investors have conviction over the market's direction.
Friday also marks "quadruple witching," when four types of contracts expire -- those tied to market index futures, market index options, stock options and stock futures.
While many traders try to settle out those contracts ahead of expiration, there is often some volatility on the actual day.
"When you have options expirations, it tends to skew trading," said Weisberg. "They're sort of throwaway days."
U.S. stocks closed higher Thursday on upbeat jobs and manufacturing reports, but the market remains nervous about the European debt crisis.
After the close Thursday, Fitch downgraded seven banks, including Bank of America (BAC, Fortune 500), Morgan Stanley (MS, Fortune 500), and Goldman Sachs (GS, Fortune 500), as well as Europe's Barclays, Societe Generale, BNP Paribas, Deutsche Bank and Credit Suisse. Most major banks ended the day down, with Goldman Sachs dropping almost 2%.
Economy: Federal officials also said Friday that Europe's crisis could wind up being a job killer for the United States.
New York Fed President William Dudley told lawmakers that deterioration in the European economy could reduce demand for U.S. products. And Steven Kamin, director of the division of international finance at the Federal Reserve, echoed those comments with equally dire testimony.
Companies: Shares of Zynga (ZNGA) rose 10% in their public debut on the Nasdaq, before closing the day down 5% from its IPO price. The maker of popular Facebook game Farmville priced shares at $10 apiece in the its initial public offering late Thursday.
Research in Motion (RIMM) shares dropped sharply, a day after the BlackBerry maker offered a disappointing outlook for the current quarter and next year, when it released its earnings results.
World markets: European stocks closed the day with modest losses. Britain's FTSE 100 (UKX) ticked down 0.3% while the DAX (DAX) in Germany edged down 0.5%. France's CAC 40 (CAC40) shed 0.9%.
Asian markets ended higher. The Shanghai Composite (SHCOMP) rose 2%, the Hang Seng (HSI) in Hong Kong gained 1.4% and Japan's Nikkei (N225) edged higher 0.3%.
Currencies and commodities: The dollar fell against the Japanese yen, the euro and British pound.
Oil for January delivery increased 12 cents to $93.99 a barrel.
Gold futures for February delivery rose $20.70 to $1,597.90 an ounce.
Bonds: The price on the benchmark 10-year U.S. Treasury increased pushing the yield down to 1.86% from 1.91% late Thursday.
-- CNNMoney's Aaron Smith contributed to this report.