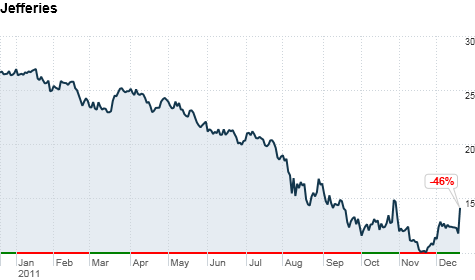 Jefferies' fourth quarter earnings sparked a rally of 20% Tuesday erasing some of its steep 2011 losses. Click chart for more on Jefferies.
NEW YORK (CNNMoney) -- The investment bank Jefferies has taken steps to shrink its assets, and fourth quarter results were "mediocre," according to CEO Richard Handler.
Yet, for Handler, these results were a vindication, after rumors swirled in the wake of MF Global's collapse that Jefferies could swiftly suffer a similar fate.
Shares of Jefferies (JEF) closed up nearly 23% Tuesday after the company released fourth quarter profits that beat analysts expectations. Revenues were lighter than expected though.
"We encountered a real world stress test," said Handler on the company's earnings conference call. "In what would be a rather mediocre quarter most years, we were pleased with this year."
Beginning in November, Jefferies rapidly shrunk the assets on its balance sheet by roughly $10 billion, or 25%, to $35 billion. It did that largely by selling the bank's positions in European sovereign debt.
Handler said the firm's balance sheet would likely remain smaller for the foreseeable future until the economy improves.

"We'll have a reduced balance sheet until we see some light in the world," said Handler.
Those tempered aspirations come after Jefferies has spent more than a decade attempting to find solid footing among top-tier investment banks.
"A couple of years ago they were viewed as one of the fastest growing investment banks and that commanded them a higher valuation versus their peers," said Jeffery Harte, a banking analyst at Sandler O'Neill & Partners. "A lot of that premium has now eroded."
Sean Egan, a founding principal of the ratings agency Egan-Jones, said he was getting more comfortable with Jefferies since it shed assets. Egan's firm was the sole ratings agency to downgrade Jefferies in early November to BBB- from BBB and had recommended that the bank cut assets and raise equity.
Still, Egan said he's concerned that Jefferies could build up its assets as quickly as it cut them.
But massive growth does not appear to be a priority for now. Jefferies announced it had reduced headcount by "70 plus" individuals in its equities division during the month of December. Handler said he wouldn't comment on further headcount reductions.
For the quarter that ended in November, Jefferies generated $39 million in profits, or 17 cents a share, beating analysts' expectations of 14 cents per share. That compares to $63 million, or 31 cents a share, in the fourth quarter of 2010.
Revenues dropped to $554 million in the fourth quarter of 2011 compared to $680 million the same quarter a year ago. Analysts had expected $562 million in revenues for this quarter.
Handler said that neither he nor any members of senior management would collect a bonus in 2011 because of the firm's results.
Jefferies also addressed reports that hedge fund clients who house funds at the firm were moving funds away from the bank. Rumors swirled about that when investors were worried about potential liquidity issues at Jefferies in November.
On its conference call, Jefferies reported that the firm lost only eight out of 350 accounts. The bank also said that 34 accounts moved their "cash balances" to JPMorgan through a preexisting partnership, but added that Jefferies continues to work with them.
Over the past two months, Handler gave the market an unprecedented level of detail on its exposure to European sovereign debt ahead of the release of fourth quarter earnings.
During the first two weeks of November, Jefferies issued five separate press releases explaining how much debt it held of Portugal, Italy, Spain, Greece and Ireland and outlining the amount it sold. During the conference call, Handler said Jefferies is now net short $123 million in European debt.
The financial sector overall rallied Tuesday, after bank stocks started off the week under fire as investors grew wary of problems in Europe and over more regulations on financial institutions.
On Monday, Bank of America (BAC, Fortune 500) dropped below $5, a precarious level for any stock, but closed Tuesday at $5.17 per share up more than 3%. Rivals Morgan Stanley (MS, Fortune 500), Goldman Sachs (GS, Fortune 500) and Citigroup, (C, Fortune 500) all bounced back between 3% and 5% Tuesday.