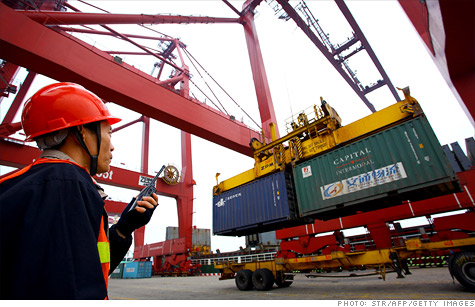 NEW YORK (CNNMoney) -- China's export powerhouse is slowing down.
Chinese exports increased 13.4% in December, the General Administration of Customs reported Tuesday. Aside from blips due to New Year holidays, that marked the slowest export growth since November 2009.
It could be yet another sign that the world's second largest economy is likely to hit a soft patch this year.
"The next few months will be tough..." economists from HSBC wrote in a research note. "We continue to expect China's exports to decelerate to a single digit pace in the coming months."
China is being hit by weaker demand from both Europe and the United States, and a rise in local wages, which make it harder for Chinese exporters to compete with cheap labor in other emerging economies. Other recent reports show the country's manufacturing sector is struggling around stall speed.
Vice Commerce Minister Zhong Shan cautioned yesterday that China is facing a "more severe export situation" in 2012, official news agency Xinhua reported.
China's trade surplus -- which measures the gap between exports and imports -- widened to $16.5 billion in December, a surprise to economists who were predicting it would narrow.
But the change was mainly due to imports growing far weaker than expected -- a data point that seemed to fly in the face of the government's hopes to boost domestic demand.
"Strong demand from the growing Chinese market is good news for global growth. And that's where the disappointment comes in," Jennifer Lee, senior economist with BMO Capital Markets said in a research note, pointing to the data that showed imports grew 11.8% year-over-year, about half their rate in November.
Other economists say not to worry though: the import figures were subdued by lower commodity prices.
Regardless, stock markets around the world responded to the trade report positively, hoping the data would give the Chinese government more reason to enact stimulus policies to stabilize the economy.
"The focus today is not on slower growth, but the hope that slower growth will lead to lower rates in the world's most populous country," Lee said.