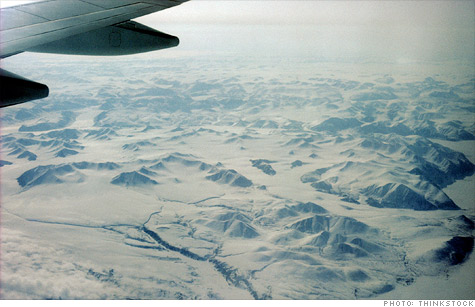 For those looking to break out of the winter doldrums, there are plenty of airfare travel deals to be had in January and February.
NEW YORK (CNNMoney) -- Need to recover from the holidays? With airfare at its lowest point in a year, now is the best time to get away.
Even though airfares hit the roof over the holidays, lackluster demand in January and early February has caused prices to drop to their lowest levels in 12 months.
Typically, flights departing during the six-week period that starts on the Tuesday after New Year's and runs up to President's Day weekend cost less than any other time of year. Over the last three years, average ticket prices for domestic, round-trip flights departing during this time have hovered around $340, according to data compiled by Expedia.
"The savings can be pretty dramatic -- anywhere from 20% to 50% less than the same flight over the holidays," said Rick Seaney, CEO of FareCompare.
Those savings are particularly pronounced on domestic flights that depart on Tuesdays, Wednesdays and Saturdays, which are the cheapest days to fly, he added.
A quick search on Expedia yields a slew of transcontinental fares on popular routes like New York to Los Angeles or San Francisco to Washington, D.C. for less than $300. That's up to 20% less than it will cost in the spring and 30% less than it will cost during the peak summer travel season, according to George Hobica, president of Airfarewatchdog.com.
However, airfare for flights from cold weather climates to warm weather destinations generally cost more than other routes and prices also tend to jump if you try to book within a week or two of departure, Seaney added.
Plus rising fees -- for printing boarding passes, checking bags or even carrying your luggage onboard with you -- and hefty fuel surcharges can make even a cheap trip a lot less affordable.
Fares to destinations in Europe are also 50% to 60% less, on average, during this time than they'll be in the summer, Hobica said, but there's a catch: With the price of oil surging, travelers to Europe now pay an extra $470 for their tickets as a fuel surcharge, according to BestFares.com. Taxes and other fees can add another $100 or more.
For example, while the cost of a flight from St Louis to Barcelona on Continental (UAL, Fortune 500) or United Airlines departing on Feb. 2 and returning returning Feb. 8 is only $25 each way right now -- once the fuel surcharge, taxes and fees are piled on, the tickets total more than $600 round trip.