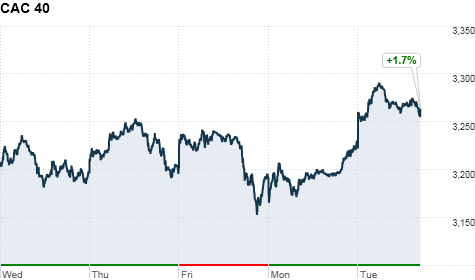 Click on chart to track world market data.
NEW YORK (CNNMoney) -- Stocks in Europe and Asia rallied Tuesday following a report showing China's economic growth slowed, but not as much as had been feared.
Markets were also buoyed by a report showing a decline in European inflation and solid demand for short-term debt auctions in Europe.
The Shanghai Composite (SHCOMP) in China surged 4.2%, while the Hang Seng (HSI) in Hong Kong soared 3.2% and the Nikkei (N225) in Tokyo rose 1.1%.
China's gross domestic product grew at an annual rate of 8.9% in the fourth quarter. That was slower than the prior quarter's 9.1% GDP, but was still slightly better than expected.
"Asian markets are firmly on the front foot overnight after the latest Chinese data confirmed that the economic slowdown was less-than-feared," wrote Deutsche Bank analyst Colin Tan, in a research note.
In Europe, markets ended Tuesday's trading session higher. The DAX (DAX) in Frankfurt gained 1.8%, while the CAC 40 (CAC40) in Paris rose 1.4% and London's FTSE (UKX) added 0.7%.
European markets also got a boost from a report showing the annual rate of inflation in the euro area slowed down to 2.7% in December, compared to 3% the prior month, according to Eurostat, the European Union's statistics office.
Short-term debt auctions continue to draw decent demand. Spain sold €4.88 billion of 12- and 18-month bills Tuesday, at the high end of expectations.
"[Spain] was better than anticipated and could be considered a successful auction," said Tommy Molloy, chief dealer at FX Solutions in Saddle River, NJ.
Investors will be keen to see how Spain's bond auctions on Thursday fare since those will include maturities up to 10 years. Currently the yield on Spain's 10-year bond is hovering around 5%.
The European Financial Stability Facility, Europe's bailout fund, also drew solid demand for its auction of 6-month bills Tuesday, despite its recent downgrade by Standard & Poor's.
Molloy said that investors weren't worried about the downgrade because of the relatively short duration of the bills.
But don't break out the champagne just yet.
Europe's debt crisis is far from over, and Greece, which is at the center of the crisis, is facing some critical decisions.
High level discussions over Greek debt are resuming this week and officials from the International Monetary Fund, European Central Bank and European Commission are back in Athens reviewing the country's finances.
Greek Finance Minister Evangelos Venizelos and officials from the Institute of International Finance have been trying to reach consensus on a plan to reduce the value of Greek bonds by 50% to reduce the country's debt load to 120% of economic output by 2020.
Worries about a Greek default are rearing their ugly head yet again, with a Fitch official telling Reuters that it was a likely scenario, though it would be orderly.
For now, the good news spread to Wall Street. S&P 500 (SPX), Dow Jones industrial average (INDU) and Nasdaq (COMP) were about 1% higher.