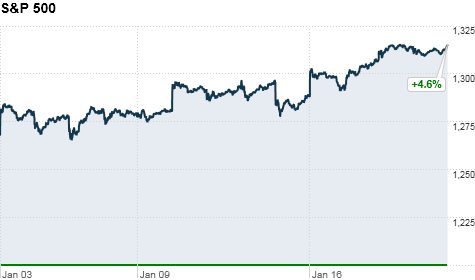 Click the chart for more stock market data.
NEW YORK (CNNMoney) -- After three weeks of gains, investors could be in for a choppy week ahead, as earnings kick into high gear and Europe's debt crisis heats up.
The week ahead includes reports from more than a third of the Dow 30, including McDonald's (MCD, Fortune 500) and AT&T (T, Fortune 500), and 117 members of the S&P 500 (SPX) including, Apple (AAPL, Fortune 500), Starbucks (SBUX, Fortune 500), and Netflix (NFLX).
Earnings for S&P 500 company are expected to have climbed just 5% in the fourth quarter, according to earnings tracker Thomson Reuters. That would mark the first quarter of single-digit earnings growth in two years. Revenues for the companies in the benchmark index are expected to have risen 7%.
While expectations are low, "earnings haven't been as soft as we had feared," said Peter Tuz, president at Chase Investment Counsel. "In the face of severe economic problems in Europe, large U.S. companies continue to do pretty good. That's positive for those companies and positive for the market."
In addition to corporate results, investors will continue to keep a weary eye on Europe.
"The constant turmoil in Europe and concerns over whether Greece will default will be a recurring theme in markets this year," said Tuz.
Greek officials continue to negotiate a debt restructuring deal with the Institute of International Finance, which represents the private sector investors who own Greek government bonds.
If officials fail to seal a deal, the European Union and the International Monetary Fund may refuse to give Greece its next bailout payment, pushing the country further into default risk, noted Kathy Lien, director of currency research at Global Forex Trading.
Both sides are under intense pressure to reach an agreement ahead of a meeting of eurozone finance ministers taking place Monday and Tuesday, she added.
In addition to discussing the Greek debt deal, finance ministers will likely focus on broader sovereign issues and euorzone debt restructuring, in an effort to create a foundation for the Jan. 30 summit of EU leaders.
In the United States, the Federal Reserve holds its first policy meeting of the year this week, with a statement due out Wednesday afternoon.
Experts don't anticipate the Fed will shift its policy stance, but, for the first time ever, the central bank will publish interest rate projections. The projections, which will be released four times a year and are an effort to increase transparency, will shed light on when and by how much the Fed plans to raise interest rates.
The Fed will also release its estimate for economic growth, unemployment and inflation at the end of its two-day meeting.
Also on the economic front, investors will get updates on the housing market, with reports on pending homes sales, new home sales, and the Federal Housing Finance Agency's housing price index on tap.
But the highlight of the week will be the government's first estimate of fourth-quarter U.S. economic growth. Economists forecasts that gross domestic product, the broadest measure of economic growth, will have risen by 3.1% during the last three months of 2011.