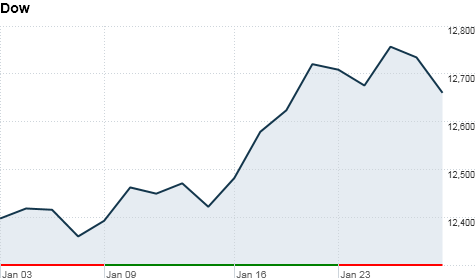 Click for more market data.
NEW YORK (CNNMoney) -- The stock market is off to a good start this year, but next week brings a host of potential pitfalls that could slow the recent momentum.
Stocks ended last week on a sour note after the government said the U.S. economy expanded at a slower-than-expected pace in the fourth quarter, even as growth improved from the previous quarter.
The Dow Jones Industrial Average fell 0.5% last week, snapping a three-week winning streak. But the S&P 500 and Nasdaq both kept the rally going.
Investors looking to lock in gains from the recent advance could send stocks lower next week, said Quincy Krosby, market strategist with Prudential Financial. "Given the run-up we've had, it wouldn't be surprising to see more consolidation and perhaps a correction next week," she said.
The week starts with a summit of European Union leaders Monday and ends with a key report on the U.S. job market Friday. Investors will also sort through quarterly results from a slew of major U.S. companies as well as economic reports on manufacturing, consumer confidence and personal spending.
In Europe, top political leaders from the 27-member EU are expected to back a treaty to speed up implementation of the European Stability Mechanism, a move designed to strengthen the region's financial firewall. They will also continue to debate the details of a proposed fiscal compact aimed at enforcing budgetary discipline and strengthening political ties.
Investors are hoping Greece and its creditors in the private sector will reach agreement on a crucial restructuring of government debt. Athens needs to seal the deal soon to secure additional bailout funds and avoid an almost-certain default on bonds due in March.
Comments from top EU officials last Friday raised hopes that a deal can be reached in time for the summit. On Saturday, negotiators representing the private sector said talks with the government were progressing and that an agreement could be reached next week.
"The expectation is that a deal will be finalized for Greece," said Krosby. "The question is will we hear more on Portugal."
Portugal's borrowing costs surged to record highs last week amid concerns it could be the next eurozone nation to face a default.
Still, borrowing costs for Italy and Spain have come down and both nations have held successful auctions of short-term bonds recently, easing concerns that the debt crisis is spreading to core members of the eurozone. In addition, the European Central Bank has taken aggressive action to prevent a deeper credit crunch in the banking system.
In the United States, investors will pay close attention to the week's economic numbers after an initial reading on fourth-quarter U.S. gross domestic product came in below expectations last week.
The GDP report came days after the Federal Reserve issued a cautious outlook for the economy and said interest rates will remain near historic lows until late 2014.
On Friday, the Labor Department is expected to report that employers added 170,000 jobs in January, down from a 200,000 gain in December. The unemployment rate is expected to hold steady at 8.5%, according to consensus estimates from Briefing.com.
But a key manufacturing index is expected to show Wednesday that activity improved in January.
On the corporate front, Exxon (XOM, Fortune 500) and Amazon (AMZN, Fortune 500) are among the companies slated to report quarterly results next week.
Investors also are eager for news on a potential initial public offering by Facebook, one of the most highly anticipated IPOs of the year. The social networking website is reportedly preparing to file registration papers with the Securities and Exchange Commission as early as this week.
Meanwhile, the race for the Republican presidential nomination moves to Florida, with a primary vote on Tuesday.
"Investors want to see who the candidate is going to be and get a sense of the candidate's platform," said Krosby.