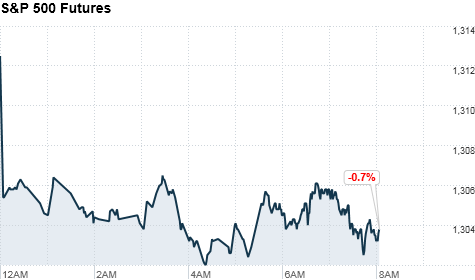 Click the chart for more premarket data.
NEW YORK (CNNMoney) -- U.S. stocks are poised to open lower Monday, after the weekend came and went without Greek leaders reaching an agreement on a debt-relief deal.
S&P 500 (SPX), Dow Jones industrial average (INDU) and Nasdaq (COMP) futures slumped 0.7%. Stock futures indicate the possible direction of the markets when they open at 9:30 a.m. ET.
Bank stocks were notably lower in premarket trading, with Bank of America (BAC, Fortune 500) down 1.9%, Citigroup (C, Fortune 500) falling about 0.8%, and JPMorgan Chase (JPM, Fortune 500) fell 1.3%. Deutsche Bank (DB) plunged 4.8% and HSBC (HBC) dropped 2.1%.
Greek officials finished the weekend without a deal in their ongoing talks with private-sector creditors, and investors will be looking this week for the parties to finally reach an agreement. Without a such a deal, the country jeopardizes its access to bailout funds and might not be able to make a €14 billion debt payment that's due March 20.
"All eyes will be on Europe this morning again," said Weyman Gong, principal and portfolio manager at Signature. "Global investors are really concerned about the bankruptcy issues -- particularly a Greek default, which everybody wants to avoid."
European Union leaders will gather Monday for their first summit of the year.
The official agenda is focused on striking a balance between more austere fiscal measures for nations with unsustainable levels of debt and policies that will help revive economic growth across the 17-member euro-currency area.

But difficult debt negotiations in Greece have revived concerns about a default, and investors are growing worried about Portugal, where borrowing costs continue to soar.

U.S. stocks ended mostly lower Friday as jittery investors digested the weaker-than-expected GDP report, and Europe's crisis loomed in the background.
World markets: European stocks slumped in midday trading. Britain's FTSE 100 (UKX) fell 0.9%, the DAX (DAX) in Germany dropped 0.8% and France's CAC 40 (CAC40) lost 1.1%.
Asian markets ended lower. Shanghai re-opened after a weeklong break for Lunar New Year, and the Shanghai Composite (SHCOMP) closed down 1.5%. The Hang Seng (HSI) in Hong Kong fell 1.7% and Japan's Nikkei (N225) slumped 0.5%.

Economy: Personal income ticked up 0.5% in December, while spending remained flat, the Commerce Department reported Monday.
Meanwhile, the personal consumption expenditures price index -- a measure of inflation preferred by the Federal Reserve -- showed prices, excluding energy and food, rose 0.2% in December, up from a 0.1% gain in November.
Companies: Wendy's (WEN) shares fell 3.1% in premarket trading, after the fast-food chain reported earnings per share of one cent, the same as the year-ago quarter.
Buzz gathered Friday about a possible Facebook IPO after the Wall Street Journal reported that the filing could come on Wednesday. Shares of fellow social media firms LinkedIn (LNKD), Pandora (P), Groupon (GRPN) and Zynga (ZNGA) gained on the news.

Currencies and commodities: The dollar rose against the euro and the British pound but fell versus the Japanese yen.
Oil for March delivery slipped 54 cents to $99.02 a barrel.
Gold futures for February delivery fell $7.40 to $1,724.80 an ounce.
Bonds: The price on the benchmark 10-year U.S. Treasury rose, pushing the yield down to 1.85% from 1.90% late Friday.