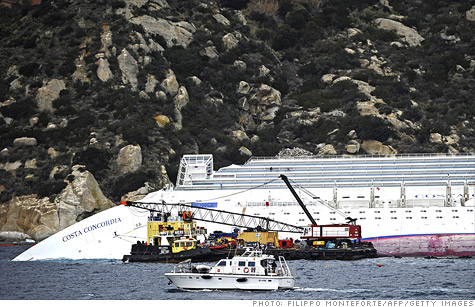 Carnival altered its forecast for 2012 and said it will take a hit of up to $395 million from the deadly crash of the liner Costa Concordia and the rising cost of fuel.
NEW YORK (CNNMoney) -- Carnival Corp. lowered its 2012 forecast on Monday to reflect the fatal accident of a cruise ship off the coast of Italy earlier this month, as well as the rising cost of fuel. (see correction below)
Carnival is now projecting a financial hit, in the range of $375 million to $395 million, against company profit for the full year 2012. The company said the hit is equal to 48 to 51 cents against the company's earnings per share for the year.
The hit to earnings can be applied to the latest forecast from December that expected Carnival's earnings for the full year would be in the range of $2.55 to $2.85 per share.
The lowered forecast is the result, in part, of the accident on Jan. 13 of the Costa Concordia, which ran aground off the coast of Isola del Giglio, Italy. The ship was severely damaged and capsized in the shallow waters. Seventeen people died in the crash, according to the latest death toll.
"The ship remains grounded and partially submerged off the coast," said Carnival in a statement. "The cause of the accident is currently under investigation by the Italian authorities."
For the first quarter of 2012, Carnival is projecting a loss. The company forecasts that it will take a hit of $117 million in the first quarter, equal to 15 cents per share, including the damage from the accident as well as the rising cost of fuel.
Including the new projections, Carnival expects a loss of at least 5 cents per share in the first quarter. In December, prior to the accident, the company forecast first-quarter earnings in the range of 6 to 10 cents a share.
In addition to its losses stemming from the wrecked ship, Carnival said that bookings have dropped off since the accident.
The ship is insured, with a deductible of $40 million. The company said it's still trying to determine whether the Costa Concordia can be repaired and returned to use.
Carnival's (CCL) stock has droppedabout 9% since the accident. It was down slightly in Tuesday trading.
In contrast, shares of the company's rival, Royal Caribbean Cruises (RCL), have been flat since the Carnival crash. The stock was down 1% in Tuesday trading.
---An earlier version of this story erroneously stated that Carnival expected to report a loss for all of 2012. In fact, the company said it reduced its earnings forecast for the year following the Italian accident.