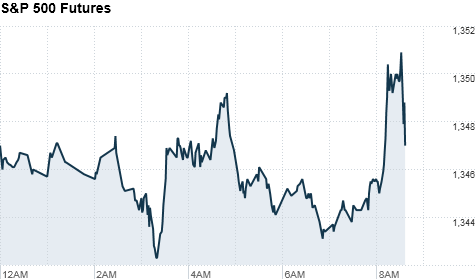 Click the chart for more premarket data.
NEW YORK (CNNMoney) -- U.S. stocks were poised for a higher start Thursday, as investors continued to focus on Greece, where political parties are negotiating austerity measures and reforms that are needed to secure more bailout funds and a default.
Investors grew hopeful after new reports said that Greek politicians have reached a deal. During a press conference, ECB president Mario Draghi said Greek Prime Minister Lucas Papademos informed him that a deal has been reached in Athens, and endorsed by the major political parties.
Draghi said the program will be discussed later Thursday at the meeting of finance ministers from the euro area.
The Dow Jones industrial average (INDU), S&P 500 (SPX) and Nasdaq (COMP) futures turned up between 0.1% and 0.2%, after drifting in the red most of the morning. Stock futures indicate the possible direction of the markets when they open at 9:30 a.m. ET.
Investors will likely spend Thursday with their eyes on Athens, as the spending cuts are a precondition for additional bailout funds.
Greece needs a second bailout of €130 billion from the European Union, International Monetary Fund and European Central Bank in order to make its payment on a €14.5 billion bond redemption next month.
Stocks edged higher Wednesday as investors remained focused on the precarious situation in Greece.
World markets: European stocks were higher in afternoon trading. Britain's FTSE 100 (UKX) added 0.3%, the DAX (DAX) in Germany gained 1.2% and France's CAC 40 (CAC40) rose 0.5%.
The European Central Bank left its benchmark interest rate at 1%. Bank president Mario Draghi is slated to speak at a press conference later in the morning.
Meanwhile, the Bank of England also left rates unchanged, but said it would buy another £50 billion, about $79 billion, of U.K government bonds to help stimulate the British economy.
Asian markets ended mixed. The Shanghai Composite (SHCOMP) rose 0.1%, while the Hang Seng (HSI) in Hong Kong lost a bit of ground and Japan's Nikkei (N225) shed 0.2%.
China's inflation rate rose in January, which may dash hopes that the country's central bank will soon take more action to support economic growth there. Consumer prices rose 4.5% over a year-ago in January, China's National Bureau of Statistics reported Thursday -- marking a pick-up from a 4.1% inflation rate the month before.
Companies: Shares of Bank of America (BAC, Fortune 500) were higher in premarket trading. Late Wednesday, five of the nation's largest banks -- including Bank of America, JPMorgan Chase (JPM, Fortune 500), Wells Fargo (WFC, Fortune 500), Citigroup (C, Fortune 500) and Ally Financial -- agreed to a settlement deal with New York, California and just about all the other state aimed at helping homeowners struggling with loans bigger than the value of their homes, according to a person familiar with the talks.
Yahoo's (YHOO, Fortune 500) stock rose following news reports that Chinese conglomerate Alibaba wants to buy back the 40% stake that Yahoo owns in the company. Shares of Hong Kong-listed Alibaba were suspended Thursday.
Shares of Diamond Foods (DMND) plunged almost 40% after the snack foods company said it will restate two years worth of financial results, after an auditing probe discovered that the company had improperly accounted for payments made to walnut growers. Diamond Foods also put two top executives -- CEO Michael Mendes and CFO Steven Neil -- on administrative leave.
Oracle (ORCL, Fortune 500) shares edged higher after the company said it is buying Taleo, which provides a cloud-based human resources management software, for $1.9 billion.
Corporate earnings also remained in the spotlight Thursday morning.
PepsiCo's (PEP, Fortune 500) fourth-quarter profit and revenue rose, topping expectations, but shares fell as the company also announced 8,700 job cuts as part of a cost-cutting measure to increase investments in advertising and marketing.
Shares of daily deals site Groupon (GRPN) tumbled Thursday, a day after the firm posted a surprise loss for its first quarter as a public company.
Cisco's (CSCO, Fortune 500) stock declined despite the company beating expectations with its fourth-quarter profit and revenue. The tech giant boosted its quarterly dividend by 30%.
Economy: Initial unemployment claims fell by 15,000 to 358,000 during the latest week, a level near the four-year low hit in January. Economists expected 370,000 claims, compared to the previous week's 373,000.
Meanwhile, slightly more than 3.5 million Americans filed continuing claims, an increase by 64,000, in the week ended January 28. Economists were expecting 3.47 million continuing claims.
Wholesale inventories, due later in the morning, are expected to have increased by 0.4% for the month of December, after ticking up by 0.1% in the month prior.
Currencies and commodities: The dollar fell against the euro and the British pound, but rose versus the Japanese yen.
Oil for March delivery increased 54 cents to $99.25 a barrel.
Gold futures for April delivery fell added $1.70 to $1,733 an ounce.
Bonds: The price on the benchmark 10-year U.S. Treasury was little changed, and the yield hovered around 2%.