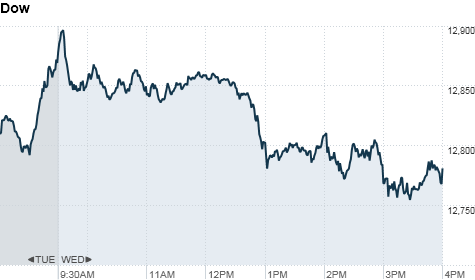 Click for more market data.
NEW YORK (CNNMoney) -- U.S. stocks closed lower Wednesday as the euro hit a 1-week low on uncertainty over Greece's debt problems.
The Dow Jones industrial average (INDU) tumbled 97 points, or 0.7%, to end at 12,781. The S&P 500 (SPX) fell 7 points, or 0.5%, to 1,343. The Nasdaq (COMP) dropped 16 points, or 0.5%, to 2,916.
Stocks were mixed earlier in the day, as investors weighed better-than-expected European economic data and China's support for the eurozone against a lack of progress in Greece.
The overall eurozone economy shrank for the first time in more than two years in the fourth quarter of 2011, but the 0.3% decline was not as bad as economists expected. The latest figures were helped by a smaller-than-expected drop in German GDP and surprise growth in France -- the eurozone's two largest economies.
Meanwhile, a China-European Union summit ended Tuesday with promises of more support from Beijing for debt-straddled Europe.
"China is firm in supporting the EU side in dealing with the debt problems. We match our words with actions," Chinese Premier Wen Jiabao said.
But the positive news was overshadowed by the fact that Greece still remains on the brink of disaster.
"As much as we'd like to ignore Greece and Europe all together, we just can't," said Kim Caughey Forrest, senior equity analyst at Fort Pitt Capital.
A much-anticipated meeting of eurozone finance ministers scheduled for Wednesday was canceled Tuesday. Instead, the Eurogroup of 17 eurozone finance ministers held a teleconference after which they said "substantial further progress has been made."
The Eurogroup meets again on Monday and indicated it would likely give its approval for the latest economic reform proposal, which Greece needs in order to secure bailout funds and avoid defaulting on a €14.5 billion bond redemption in March.
Investors remain on edge, however, as they've heard this line before and appear unwilling to put much weight on the Eurogroup statement until the deal is signed, sealed and delivered.
"Greece just ends up creating more problems for itself by announcing a deal without finalizing it," said Forrest.
U.S. stocks recovered from earlier losses on Tuesday to closed mixed.
World markets: European stocks closed flat to slightly higher. Britain's FTSE 100 (UKX) ended the day unchanged, while the DAX (DAX) in Germany gained 0.4% and France's CAC 40 (CAC40) added 0.3%.
Asian markets ended with solid gains. The Shanghai Composite (SHCOMP) rose 0.9%, the Hang Seng (HSI) in Hong Kong spiked 2.1% and Japan's Nikkei (N225) rallied 2.3%.
Economy: The Empire Manufacturing index rose to 19.5 in February, from 13.5 the previous month. Analysts were expecting the survey to come in at 14.
Industrial production was flat in January, compared to a 1% rise the previous month. Analysts were expecting production to rise by 0.6%.
The Federal Reserve released the minutes from its late-January monetary policy meeting, saying they expected modest economic growth and gradually declining unemployment.
A number of Fed officials remained open to adding more long-term securities to the central bank's balance sheet "if the economic outlook deteriorated."
Companies: Comcast (CMCSA, Fortune 500) shares popped after the cable provider beat estimates for its fourth-quarter profit and revenue, and announced a 44% increase to its dividend -- as well as a $6.5 billion stock buyback program.
Shares of Abercrombie & Fitch (ANF) surged even after the retailer's fourth-quarter profit fell from a year ago.
Shares of Dean Foods (DF, Fortune 500) jumped after the the company's fourth-quarter loss narrowed compared to a year earlier.
Devon Energy's (DVN, Fortune 500) stock moved higher on the company's higher-than-expected fourth-quarter profit, as production of oil and gas rose.
Shares of Hartford Financial (HIG, Fortune 500) spiked after hedge fund manager John Paulson ramped up pressure on the company, calling for it to spin off the property-and-casualty business from the life insurance business. Paulson trimmed his stake in the company during the fourth quarter, but remains Hartford's largest shareholder.
Shares of Zynga (ZNGA) were down sharply after the social gaming company posted a net loss of $404 million for its full fiscal year due to large stock-based compensation expenses.
Procter & Gamble (PG, Fortune 500) has found a new buyer for its Pringles unit. Cereal maker Kellogg Co. (K, Fortune 500) will pay $2.7 billion for the distinctively shaped potato chip product. P&G was looking for a buyer for Pringles after a deal fell through last week, in the wake of a scandal at would-be buyer Diamond Foods (DMND).
Shares of Madison Square Garden (MSG), the parent company of the New York Knicks basketball team, continued their rally after surprise star Jeremy Lin won Tuesday's game in Toronto on a last-second basket.
Apple (AAPL, Fortune 500) shares fell 2.3% to close below $500 a share after rising near a key technical level above $526 earlier in the day.
Currencies and commodities: The dollar rose against the euro, but fell versus the British pound and the Japanese yen.
Oil for March delivery rose $1.30 to settle at $102.04 a barrel.
Gold futures for April delivery gained $10.40 to end the day at $1,728.10 an ounce.
Bonds: The price on the benchmark 10-year U.S. Treasury was lower, pushing the yield down to 1.94% from 1.92% late Tuesday.