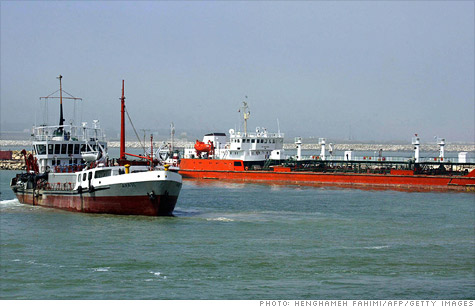 Brent crude - Europe's benchmark - has moved up steadily in 2012 as investors grow increasingly concerned about Iran.
NEW YORK (CNNMoney) -- Prices for Brent crude oil rose to their highest level since April 2011 Wednesday on fears that Iran might halt shipments of oil to Europe.
Brent crude-- the benchmark for prices in Europe -- spiked more than 1.8% Wednesday to $119.53 per barrel, following reports, citing Iranian television, that the Iranian government was suspending shipments of crude oil to six European Union countries.
That report was quickly pulled from Iranian television, with news reports saying the Iranian government denied the action. Brent prices retreated somewhat by late morning and ended the day up 0.9% at $118.41 a barrel.
The price of Brent has been steadily rising over the past several weeks as investors grow increasingly worried about Iran's nuclear ambitions, with the United States, United Kingdom and Europe all imposing sanctions to restrict Iran's ability to sell oil.
Of the 2.2. million barrels of oil Iran exports a day, about 18% is bound for European markets, according to the U.S. Energy Information Administration (EIA). The world consumes about 89 million barrels of oil per day.
However, analysts say that if Iran does suspend shipments to some European countries, it would only have a modest impact on oil prices.
The European Union has already been planning to halt shipments of oil from lran in July, when a grace period for current contracts expires.
In a research note, Ross Strachan, chief global economist for Capital Economics said because of that plan, EU countries have had time to find alternatives sources of energy. According to Strachan, Saudi Arabia has said it would be willing to ship more oil to Europe to meet any shortfall.
Prices for Brent are still far below the highs of July 2008, when they hit $144 per barrel, and U.S. crude prices rose to a high of $142 per barrel.
In the spring of 2011, both Brent and U.S. crude prices headed toward the $120 mark as investors feared the effects of a crisis in Libya on global oil supplies.
Once it became clear that Libyan leader Moammar Gadhafi's regime was likely to be ousted, prices retreated.
U.S. gasoline prices are often closely tied to the price of Brent crude oil, since many U.S. refineries import oil from overseas to make gas.
Gas prices have been steadily rising since late December, hitting an average of $3.58 a gallon Wednesday, according to motorist group AAA.
The news from Iran did not have a major impact on oil-related stocks. On Wednesday, shares of U.S. oil producers Exxon Mobil (XOM, Fortune 500), Chevron (CVX, Fortune 500) BP (BP) and ConocoPhillips (COP, Fortune 500) all hovered around the breakeven line.
-- CNNMoney's Steve Hargreaves contributed