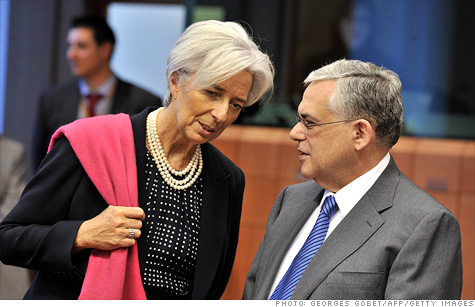 International Monetary Fund managing director Christine Lagarde speaks with Greek Prime Minster Lucas Papademos at a meeting of eurozone finance ministers in Brussels.
NEW YORK (CNNMoney) -- Eurozone finance officials remained behind closed doors late Monday as a crucial round of talks over a second bailout for Greece looked set to run late into the night.
The meeting of finance ministers from the 17 nations that use the euro, known as the Eurogroup, is widely expected to culminate with a decision on a second €130 billion for Greece, which the nation needs to avoid a potential default next month.
But European Union officials declined to say when an announcement would be made. The negotiations leading up to Monday's meeting have been fraught with delays.
Speaking to reporters ahead of the meeting, Eurogroup president Jean-Claude Juncker stressed that Greece should remain a member of the euro currency union.
"It is the intention of nobody to have Greece outside of the eurozone," he said. "That would be a bad solution for Greece and ... a bad solution for the euro area."
To qualify for the bailout, the Greek government passed a package of deeply unpopular austerity reforms and has taken additional steps to meet the conditions set out by the European Union, International Monetary Fund and European Central Bank.
Greece has also hammered out a plan to write down €100 billion euros worth of Greek government bonds and swap existing debt for securities with lower interest rates, a deal that would result in losses of up to 70% for the private sector.
Despite progress on those fronts, a final decision on the second bailout is reportedly being held up by disagreements over Greece's debt reduction targets.
Under terms reached in October, Greece agreed to lower its debt load to 120% of gross domestic product by 2020 from about 160% currently.
But the nation's worsening recession has raised worries that Greece will not achieve those targets without additional support from official creditors such as the ECB.
Greece has struggled to meet the conditions of its May 2010 bailout and many eurozone governments have been calling for greater control over how any additional funds would be used, as well as increased oversight of the nation's budget policies.
In particular, officials have suggested that bailout funds would be placed in an escrow account and used to pay off debt before Greece paid other obligations.
Europe's debt crisis originated in Greece nearly three years ago and the situation there has yet to be fully resolved.
The concern is that if Greece defaults it will be forced to leave the euro currency union, a development that could have severe and unknowable consequences for the global economy.
But fears of a full-blown debt contagion in the eurozone have eased this year amid aggressive moves by the ECB, which has flooded the banking system with cheap, low-cost loans.
Still, many economists say the long-term outlook for Greece is highly uncertain.
The nation's economy has been mired in recession for years and the austerity measures it is required to impose will further drag on growth.
At the same time, the eurozone's strongest members, including Germany, have been increasingly reluctant to provide more support for Greece given its lack of progress on debt reduction and economic reforms.