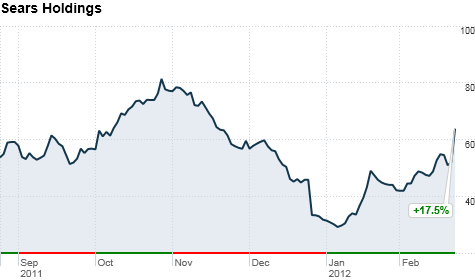 Click the chart to track Sears' stock.
NEW YORK (CNNMoney) -- Sears posted a massive loss Thursday, but it's betting on a new set of initiatives to help turn things around...and put bankruptcy rumors to rest.
Sears Holdings (SHLD, Fortune 500), which also owns Kmart as well as the Kenmore, Craftsman and Lands' End brands, plans to sell 11 stores, spin off its Sears Hometown, its outlets and some hardware stores, as well as reduce inventories.
Combined, those moves are expected to strengthen Sears' balance sheet by about $1 billion. That's on top of the $3.2 billion the retailer already has, in addition to $1 billion through credit facilities and $760 million in second lien capacity.
"This is a crucial message to Sears' vendors and lenders," said Morningstar analyst Paul Swinand. "Sears is now proving that it has the ability to increase its liquidity and provide a much bigger cushion than we expected."
The news pushed Sears' stock up more than 20%.
Swinand said the measure will help quell fears of a liquidity crisis at Sears, which have been brewing for some time.
Last month, Bloomberg reported that financial firm CIT Group (CIT, Fortune 500) had halted lending to Sears suppliers due to concerns about whether those vendors will get paid.
If Sears hadn't flaunted its access to cash, vendors could have pulled back on inventories, or shipped lesser quality merchandise, which would pressure sales and send Sears into a death spiral, said Swinand.
Sears said it expects to raise $270 million by selling the 11 stores to mall operator General Growth Properties (GGP). Separating its outlets and Hometown stores and certain hardware stores is expected to rake in between $400 and $500 million, the company said.
In December, Sears had announced it would close up to 120 Kmart and Sears stores and reduce inventories by $580 million, bringing in $350 million.
"Liquidity is key, and puts bankruptcy concerns to rest at least for this year, but it doesn't extinguish them completely," Swinand added. "Sears recognizes that it can't do business the way it has done for over 100 years, and it has an ambitious, technology-driven plan to improve the customer experience, but it's not clear whether consumers will connect."
Swinand also noted that Sears needs to turn around its appliance business, as the company's share of the market for refrigerators, dishwashers, and the like has dropped to 30% from 40% in 2000.
Sears' plans to raise cash come as the company reported a fourth-quarter loss $2.41 billion, or $22.47 per share. That compares to a profit of $374 million, or $3.43 per share, a year earlier.
Also during the fourth quarter, sales at stores open at least a full year -- a metric known as same-store sales -- declined 3.4%, mostly due to weak sales in consumer electronics and appliance.
Sears CEO Lou D'Ambrosio said the liquidity-boosting measures are the company's way to take "immediate actions to address our fourth-quarter performance."