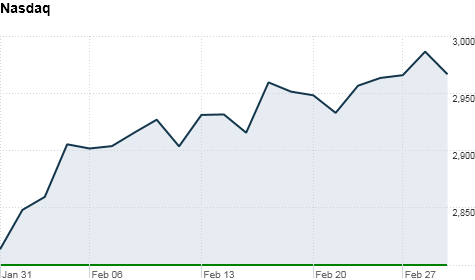 Click chart for more markets data.
NEW YORK (CNNMoney) -- While stocks ended slightly lower, Wednesday's biggest market moves were in the bond, commodity and currency markets -- with 10-year Treasury yields surging higher and the price of gold, silver and the euro dropping dramatically.
Stocks ended February with a whimper. All three indexes moved down modestly as investors weighed a mix of positive U.S. economic reports and testimony from Federal Reserve chairman Ben Bernanke hinting at the end of intervention to boost the market.
Despite modest losses Wednesday, all three indexes closed out the month and year with significant gains.
The Dow Jones Industrial Average is up 2.5% in February and 6% for the year. The S&P added 4.1% in February and 8.6% in 2012. The Nasdaq, which briefly crested above the 3,000 mark Wednesday, moved up 5.4% for the month and 14% for the year.
There was plenty of drama Wednesday in the commodities and currencies markets. It started moments after Federal Reserve Chairman Ben Bernanke began testifying before Congress at 10 a.m. Wednesday. Yields on 10-year Treasuries shot above 2% from 1.94% within minutes.
Almost immediately, prices on gold dropped more than 4%, and the euro also dropped from $1.3460 to $1.3400.
Traders speculate that it may have been a large Treasury trade gone awry that caused many computer trading models to react, kicking off a chain reaction in gold, silver and in the euro.
Gold futures settled down more than 4%, and silver closed down nearly 7%. The euro ended the day at $1.345 - not far from where it began the trading day.
Many traders saw the morning as reminiscent of the so-called "flash crash" of May 2010 when the Dow lost 1000 points within minutes and then regained most of the losses.
"It's very strange that this happened specifically at the time it did," said Douglas Borthwick, managing director at Faros Trading. "Everyone is searching around in the dark trying to find out what happened."
The Dow Jones industrial average (INDU) dropped 53 points, or 0.4%for the day. The S&P 500 (SPX) shed 7 points, or 0.5%. The Nasdaq (COMP) lost 20 points, or 0.7%.
Investors grew somewhat wary after Bernanke failed to give hope during his speech to Congress that the Fed would continue to offer monetary support to the market.
"There was some lingering hope, a desperate hope maybe, that more quantitative easing could be coming," said Paul Ashworth, chief U.S. economist at Capital Economics. "That's why we've been seeing stocks move down since he started talking."
The Nasdaq crossed the 3,000 mark Wednesday morning for the first time since December 2000, yet the tech-heavy index quickly dropped. Apple's shares, which hit a record high Wednesday, contributed to the Nasdaq's run-up.
On Tuesday, the Dow closed above 13,000 for the first time since May 2008. The S&P 500 closed at its highest level since June 2008.
Before U.S. markets opened, the European Central Bank announced results of its second Long-Term Refinancing Operation, a program designed to let banks borrow money for 3 years at interest rates as low as 1%. The central bank said it will lend €529.5 billion, or $721.4 billion, to European banks, more than the €500 billion it doled out during the program's first round in December.
Meanwhile, the U.S. government said the country's economy grew at an annual rate of 3% during the fourth quarter, up from its initial estimate of 2.8%.
Investors continue to keep a close eye on oil and rising gas prices. On Wednesday, gas prices rose for the 22nd straight day, but U.S. crude oil prices continue to decline.
World markets: European stocks closed mixed. Britain's FTSE 100 (UKX) and the DAX (DAX) in Germany slipped slightly, while France's CAC 40 (CAC40) added 0.3%.
Asian markets ended mixed. The Shanghai Composite (SHCOMP) dropped 1%, while the Hang Seng (HSI) in Hong Kong added 0.5% and Japan's Nikkei (N225) ended just above breakeven.
Economy: The February installment of the Chicago Purchasing Managers Index came in higher than expected at 64, above January levels and still well above the 50 threshold that signifies manufacturing expansion.
The Federal Reserve also released its outlook report, which said that overall economic activity continued to increase at a modest to moderate pace in January and early February. The Fed's Beige Book, which is a summary of outlooks from the 12 district banks across the country, found that manufacturing continues to expand.
Companies: Apple (AAPL, Fortune 500) shares moved higher, boosting the company's value on the stock market to above $500 billion -- another record high for what was already the world's most valuable company.
Shares of News Corp (NWSA, Fortune 500). rose after the media company announced that James Murdoch stepped down as executive chairman of the U.K. publishing unit. The son of Rupert Murdoch has been embroiled in questions over his role in a U.K. hacking scandal.
Shares of First Solar (FSLR) tumbled after the leading maker of thin-film solar panels issued disappointing quarterly results. First Solar also lowered its forecast for sales in 2012 late Tuesday.
Shares of Staples (SPLS, Fortune 500) fell even though the office supply retailer posted better-than-expected earnings and sales figures for the fiscal fourth quarter.
Costco (COST, Fortune 500) topped earnings and sales estimates for the fiscal second quarter, sending the stock higher.
Shares of Liz Claiborne (LIZ) fell despite posting fourth-quarter earnings in line with expectations, and better-than-expected sales.
Currencies and commodities: The dollar rose against the euro, but fell versus the Japanese yen and the British pound.
Oil for April delivery added 52 cents to $107.07 a barrel.
Gold futures for April delivery fell $77.10 to $1,711.30 an ounce.
Bonds: The price on the benchmark 10-year U.S. Treasury fell, pushing the yield up to 1.98%.