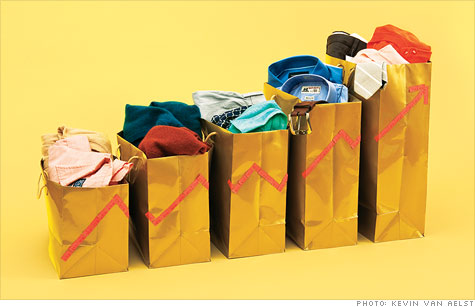 The recovery is in the bag -- at least according to the surge in retail stocks.
(MONEY Magazine) -- In a sluggish economy plagued by still-high unemployment and still-falling home values, the last place you'd think to bet on is retail. But in case you haven't noticed, retail stocks have been knocking it out of the park lately.
This isn't limited to shares of deep discounters like Dollar Tree (DLTR, Fortune 500) and Dollar General (DG, Fortune 500) that cater to penny-pinching households. Macy's (M, Fortune 500), Ralph Lauren (RL, Fortune 500), Limited Brands (LTD, Fortune 500) (owner of Victoria's Secret), and VF Corp (VFC, Fortune 500) (parent of the North Face) all saw their stocks surge 25% or more in 2011, at a time when the S&P 500 went pretty much nowhere.
"Retailers are like the canary in the coal mine," says Alison Paul, leader of Deloitte's U.S. retail practice. "They are the first place you can see where consumer sentiment really is."
How good is the mood? It's not exactly ecstatic -- the so-so holiday shopping season tells you that. But investors are betting that it's at least cheery enough to withstand the slowdown in Europe.
Clothing sales jumped 6% in 2011, while e-commerce and mail order rose 12.5%. Consumer spending should climb at an annual rate of 2.6% by the end of the year, up from the 0.7% annualized rate in the second quarter of 2011, says BMO Capital Markets economist Sal Guatieri.
That growth, though, is already reflected in the market. "We're no longer in the early stages of a recovery," says Peter Dixon, manager of Fidelity Select Retailing. Now you'll have to focus on areas that, for whatever reason, haven't been bid up yet.
Home in on home upgrades
Home improvement hasn't gotten nearly the attention that other segments of retail have lately. That's likely to change soon. The BuildFax index, which tracks pending remodeling activity based on permit filings, has shot up from a reading of 103.3 last year to 137.9.
Investors haven't been racing ahead of this trend because of the general apprehensions surrounding housing. Yet those attitudes may lift soon. Edward Jones analyst Robin Diedrich notes the inventory of new homes is at its lowest level since the late 1960s, while housing affordability is near its highest point in recent memory.
The home-improvement giants have made recent moves to broaden their appeal -- Home Depot (HD, Fortune 500) by buying the online home-services provider Redbeacon, and Lowe's (LOW, Fortune 500) through its purchase of online retailer ATG.
Lowe's, though, trades at a 30% discount to Home Depot based on forecast sales. And while Home Depot is trading slightly above its "fair value," according to Morningstar analyst Peter Wahlstrom, Lowe's shares are selling at a 10% discount to what they're worth.
Don't overlook stores selling abroad
Specialty retailers with a big footprint overseas got smacked by the European debt crisis late last year. This has created some buying opportunities, especially for investors who think Europe's mess, though bad, is overblown.
Abercrombie & Fitch (ANF) shares, for instance, are still down 40% since early November, when the clothing chain reported soft sales in some European stores. The stock is now trading at a price/earnings ratio of 12, says R.W. Baird analyst Erika Maschmeyer. Yet "we're expecting earnings growth over the next three years to average 30%," she says.
Coach (COH) also saw its stock slump -- 32% last summer -- amid recession concerns here and abroad. But the luxury handbag maker recently reported a 15% jump in quarterly profits, thanks to strong sales in Asia.
S&P Capital IQ analyst Jason Asaeda says Coach's 6% share of the luxury-goods market in China is expected to rise to 10% within two years, boosting Chinese sales from $185 million to $500 million by mid-2014. That's yet another group of consumers to count on.
Do you know a Money Hero? MONEY magazine is celebrating people, both famous and unsung, who have done extraordinary work to improve others' financial well-being. Nominate your Money Hero.