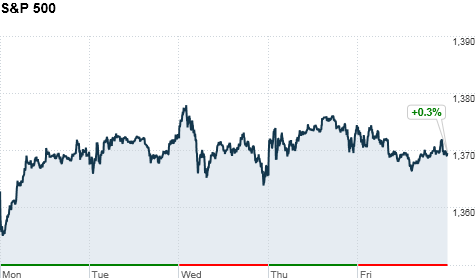 Click chart for more markets data.
NEW YORK (CNNMoney) -- Can stocks keep it up?
With all three major indexes last week hitting highs not seen since before the financial crisis, investors are looking for what could conceivably snap the 2012 stock rally that has reached into nearly every corner of the investing world.
The wild cards are Greece's debt deal and unemployment figures. On Friday, investors will have more information on both fronts.
Greece is waiting for private creditors to sign off on its bailout before the country can secure its €130 billion rescue package from the eurozone. The deadline for that signoff is Friday, and Greece must receive the rescue package before March 20 to avoid triggering a default on its sovereign debt.
"Investors will be teetering from day to day wondering if they (the Greeks) will be able to make a payment or maybe they won't," said Komal Sri-Kumar, chief global strategist at TCW. "This will go on until it's paid."
As investors wait for news on Greece, they will also be waiting for February's job numbers, which are due out before the market opens Friday.
Any indications that job growth has stalled will be taken as a negative by the markets. Investors expect the number of jobs added to increase from 243,000 added in January. Analysts surveyed by Briefing.com project 220,000 new jobs.
Investors are also expecting unemployment to drop again, after five straight months of declines. But the Briefing forecast is for the jobless rate to hold at 8.3%.
All three major stock indexes slipped slightly Friday. The Dow Jones Industrial Average (INDU) snapped a two-week winning streak, ending down 4 points. The S&P 500 (SPX) and Nasdaq (COMP) both finished higher for the fourth straight week.
Overall, the major indexes are on a roll this year, with the Dow and S&P 500 near their highest levels since the summer of 2008. The Nasdaq is near its highest point since December 2000.
In addition to jobs numbers, investors will see the number of factory orders placed in January, which analysts project to have dropped by 2.3%.
The government will also release data Friday on the U.S. trade balance, which economists predict will widen to $48 billion.
Plenty of market-moving companies will report quarterly results in the coming week.
On Tuesday, Dick's Sporting Goods (DKS, Fortune 500) and Pandora Media (P) will release results. On Wednesday, a host of retailers will report including American Eagle Outfitters (AEO), Bon-Ton Stores (BONT), Children Place (PLCE), Express (EXPR), Hot Topic (HOTT) and Coldwater Creek (CWTR) will release quarterly data. Home builder Hovnanian (HOV) will, too.
On Thursday, retailers Aeropostale (ARO) and Williams-Sonoma (WSM), car battery maker A123 Systems (AONE), and pork producer Smithfield Foods (SFD, Fortune 500) will report.