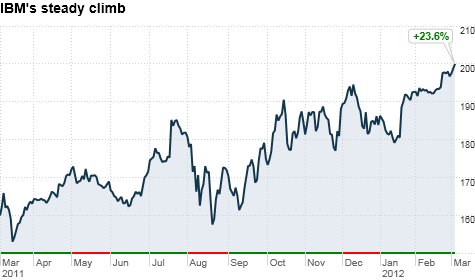 Click the chart for more on IBM.
NEW YORK (CNNMoney) -- Young upstarts like Apple and Google dominate the headlines, but century-old IBM is holding its own with the newbies. Big Blue's stock hit an all-time high on Monday, topping $200 per share.
Shares of IBM (IBM, Fortune 500) are up nearly 24% over the past 12 months, giving the company a market cap of around $230 billion.
IBM, whose predecessor company was founded in June 1911, overcame a decade of instability in the 1980s and has generally posted strong earnings in recent years.
Sam Palmisano took the helm in 2002, and his nine-year reign -- which ended in December -- was dedicated to turnaround and transparency. His vision for the future helped draw investors back to IBM.
In 2007, IBM deployed a roadmap that boldly stated it would achieve earnings of $10 to $11 per share in 2010. IBM went on to earn $11.52 per share for the year.
In its latest roadmap, IBM says it plans to achieve operating earnings of $20 per share by 2015. The company says it expects 30% of its sales will come from growth markets, that it will spend $20 billion on acquisitions, and that it will earn half of its profits from high-growth software sales.
That's good enough for legendary investor Warren Buffett, whose Berkshire Hathaway (BRKB) bought a position in IBM in November. It was Buffett's first investment in the tech industry.
Meanwhile, IBM announced earlier on Monday that its "Jeopardy!"-playing computer Watson has scored its first job in banking.
Citigroup (C, Fortune 500) is exploring possible uses for Watson's question-answering software. Citi didn't go into specifics, but the bank said Watson could help "advance customer interactions" and "improve and simplify the banking experience."
News of Watson's first commercial application came in September. Health insurer Wellpoint (WLP, Fortune 500) said it would use Watson to help medical professionals diagnose and sort out treatment options for complicated health issues.