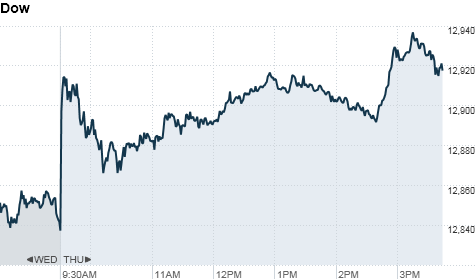 Click for more market data.
NEW YORK (CNNMoney) -- U.S. stocks closed higher Thursday as investors grew hopeful that private-sector bondholders are on the verge of accepting a debt-swap deal with Greece.
The Dow Jones industrial average (INDU) added 70 points, or 0.5%, to end at 12,908. The S&P 500 (SPX) gained 13 points, or 1%, to 1,366. The Nasdaq (COMP) rose 34 points, or 1.2%, to 2,970.
Greece is moving closer to finalizing an agreement with its private-sector bondholders on a restructuring of Greece's debt. According to unconfirmed reports in the Greek media, more than 80% of bondholders have agreed to take part in the restructuring.
The agreement is the final hurdle Greece must clear to meet all the conditions of its second €130 billion bailout program from the European Union and International Monetary Fund.
Assuming the restructuring goes through, European finance officials could approve the final portion of Greece's bailouts as early as Friday.
"Europe has a history of over-promising and under-delivering, but it seems like we're finally getting to a point where something will get done," said Michael Sheldon, chief market strategist at RDM Financial.
Meanwhile, investors are also gearing up for the U.S. government's monthly jobs report, which is due Friday morning. Ahead of the highly anticipated report, data on initial jobless claims and planned job cuts were mixed, but the overall outlook for the labor market remains upbeat.
"The majority of economic data has been positive this year, and last month's jobs report was solid, so investors are optimistic," said Sheldon.
A CNNMoney survey of 19 economists predicts that the economy added 210,000 jobs in February, leaving the unemployment rate unchanged at 8.3%.
If the monthly employment number comes in below 150,000, however, Sheldon said investors will likely be disappointed and take some money off the table, especially in light of the recent rally that pushed the S&P 500 up about 8% in 2012.
"We could see a small pullback in the near term, but as long as the economic data continue to point in a positive direction, we're not expecting the market to fall apart by any means," he added.
U.S. stocks closed higher Wednesday, a day after the biggest one-day sell-off this year, as investors were heartened by a handful of economic reports.
World markets: The European Central Bank announced Thursday that it will keep interest rates unchanged.
European stocks closed sharply higher. Britain's FTSE 100 (UKX) increased 1.2%, while the DAX (DAX) in Germany and France's CAC 40 (CAC40) jumped 2.5%.
Asian markets ended higher. The Shanghai Composite (SHCOMP) gained 1.1%, the Hang Seng (HSI) in Hong Kong added 1.3% and Japan's Nikkei (N225) ended up 2.0%.
Economy: First-time claims for unemployment insurance for the week ended March 3 totaled 362,000, an increase of 8,000 from the prior week, according to the U.S. government. That was higher than expectations of 355,000, according to a survey of analysts by Briefing.com.
Planned job cuts for the month of February totaled 51,728, according to a report from outplacement consulting firm Challenger, Gray & Christmas released before the opening bell. That's down from the 53,486 cuts recorded in January.
On Wednesday, payroll processor ADP said the private sector added 216,000 jobs in February -- an improvement from the month prior and roughly in line with expectations.
Companies: Shares of McDonald's (MCD, Fortune 500) fell after the fast-food franchiser said that same-store sales rose 7.5% in February, but listed several factors that could impact its first-quarter operating income growth.
"The current operating environment includes persistent economic uncertainty, austerity measures in Europe, and commodity and labor cost pressures, particularly in the U.S.," said McDonald's in a news release.
Anheuser-Busch InBev (BUD) shares rose after the brewer reported quarterly earnings and sales that topped forecasts, and issued an upbeat outlook.
Shares of AIG (AIG, Fortune 500) slipped a day after the Treasury Department said it was selling $6 billion worth of its AIG stock at a profit. But AIG still owes the government some $42 billion from the bailout and it's unclear when that will be repaid.
Green Mountain Coffee Roasters' (GMCR) stock dropped 20% in extended trading shortly after Starbucks (SBUX, Fortune 500) announced that it will partner with Germany-based Krueger GmbH & Co. KG to produce a new single-service coffee machine.
Green Mountain, which dominates the single-serve market with its popular K-Cup, already has a deal with Starbucks to serve K-Cup versions of the Seattle-based chain's coffee and tea products.
In announcing its new Verismo coffee system, Starbucks noted its "ground-breaking relationship" with Green Mountain. Starbucks said it shipped more than 100 million Starbucks K-Cup packs in the first eight weeks and that the business "continues to accelerate."
Currencies and commodities: The dollar lost ground against the euro and the British pound, but strengthened versus the Japanese yen.
Oil for April delivery rose 42 cents to end at $106.58 a barrel.
Gold futures for April delivery rose $14.80 to settle at $1,698.70 an ounce.
Bonds: The price on the benchmark 10-year U.S. Treasury dropped, pushing the yield up to 2.02% from 1.97% late Wednesday.