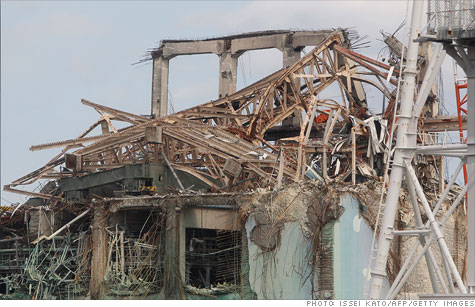 Japan's Fukushima Daiichi nuclear power plant remains severely damaged nearly one year after the earthquake and tsunami.
NEW YORK (CNNMoney) -- It's been a year since one of the worst natural disasters ever devastated the northeast coast of Japan.
March 11, 2011: A 9.0 magnitude earthquake and resulting tsunami led to the deaths of more than 15,000 people. Damage at the Fukushima Daiichi atomic power plant also created a nuclear crisis that brought back memories of the 1986 Chernobyl meltdown in Ukraine.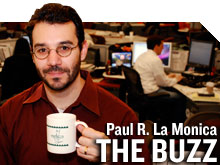 But the Japanese economy and stock market are slowly on the mend. Japan's government reported Thursday that gross domestic product shrunk at an annualized rate of 0.7% in the fourth quarter, a revision from the 2.3% contraction that was originally reported.
While that's obviously still not fantastic news, there are increased hopes that rebuilding efforts in Japan will lead to economic expansion again in the first half of this year.
Japan's benchmark Nikkei 225 (N225) index, meanwhile, has rebounded sharply from post-disaster lows. The Nikkei is up 20% from its 52-week low in November.
But the Nikkei is still about 6% below the level it was at on March 10, 2011. By way of comparison, the S&P 500 (SPX) is up 5% during the same time frame.
Shares of several leading Japanese companies, such as Sony (SNE), Toyota (TM) and NTT Docomo (DCM), are also still lower than they were a year ago.
However, aggressive moves by Japan's central bank could help the recovery. The Bank of Japan has set a specific inflation target of 1% and has committed to more monetary easing. These steps could reduce the value of the yen, which in turn, could make Japanese products more competitive in the global markets.
"It is clear that fiscal authorities in Japan are pushing for more new liquidity. Some of that money could be used for reconstruction efforts," said Michael Gayed, chief investment strategist with Pension Partners LLC, an investment advisory in New York.
"Toyota and other manufacturers that are sensitive to a weakening yen could get a nice bid due to higher exports," he added.
Neil Hennessy, CEO of Hennessy Advisors, a Novato, Calif.-based money manager, pointed out that some Japanese companies are now even reporting record profits. And their fortunes could improve further as the nation rebuilds.
Hennessy, whose firm offers the Hennessy Select SPARX Japan (SPXJX) and Hennessy Select SPARX Japan Smaller Companies (SPJSX) mutual funds, was in Japan two weeks ago to get a first-hand account of the reconstruction efforts and was impressed with what he saw.
"Among the rubble, this looks like a country that is on the verge of a comeback. This will take place over the next four or five years. But it is a good investing opportunity," Hennessy said.
Yes, one of the biggest risks with Japan is that it's not as if last year's calamity is the only problem facing the nation. The economy had been in sorry shape since the 1990s. An aging population and high debt load are just two of the concerns.
"A lot of people have been burned trying to bet on Japan over the past 20 years," Gayed said.
But some of the pessimism may be overdone.
"If Japan is thought to be in such bad shape, why does it have one of the strongest currencies in the world?" Hennessy noted.
The opinions expressed in this commentary are solely those of Paul R. La Monica. Other than Time Warner, the parent of CNNMoney, and Abbott Laboratories, La Monica does not own positions in any individual stocks.