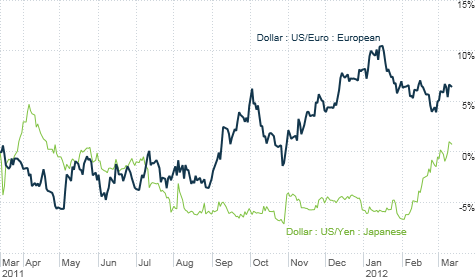 The dollar has gained ground against the euro, yen and other major currencies lately. Click chart for more on exchange rates.
NEW YORK (CNNMoney) -- The U.S. economy appears to be gradually improving -- and the dollar is coming along for the ride. Imagine that.
The greenback has often perversely slipped following signs of economic strength -- such as Friday's solid jobs report.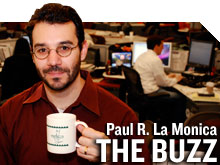 The rationale has been that anything that makes the U.S. economy look good should bolster the appeal of riskier assets like stocks and commodities. The dollar, still viewed as a paragon of safety, subsequently gets dumped.
But that's not happening now.
The dollar is near an 11-month high against Japan's yen, for example. The U.S. dollar index, which measures the value of Mr. Washington against a basket of global currencies that includes the euro, British pound and Canadian dollar among others, is now just 2% below its 52-week high.
So why is the dollar up? You can thank the Fed. Yes, Rep. Ron Paul. Even you can thank Fed chairman Ben Bernanke.
The Fed's policy committee meets on Tuesday. The central bank is widely expected to avoid giving any hints about further monetary stimulus. That's good news for the dollar since any new plans by the Fed to purchase even more Treasury bonds would probably weaken the currency.
That's what happened with the first two rounds of so-called quantitative easing. When the Fed essentially prints money to buy bonds, it dilutes the value of the existing dollars in circulation.
Investors will be looking for the Fed to acknowledge the recent uptick in the jobs numbers. If it does, investors will probably interpret that as more evidence that Bernanke and the rest of the Fed feel more confident. If the Fed is finally ready to take the QE training wheels off of the economic bicycle, that is good for the dollar.
"How the dollar does largely will depend on what the Fed says about the economy," said Eric Viloria, senior currency strategist with FOREX.com in New York. "The Fed should still be cautious but it may make small changes in how it views the job market. The market will place a lot of emphasis on that."
But if the dollar continues to strengthen, will that derail the big rally in stocks this year? It's possible.
Keep in mind that many multinational companies, your Coca-Colas, (KO, Fortune 500) IBMs (IBM, Fortune 500) and Procter & Gambles (PG, Fortune 500) of the world, tend to report weaker overseas profits when they have to translate earnings from abroad back into a stronger dollar.
"Investors are having some difficulty dealing with the stronger dollar," said Quincy Krosby, a market strategist with Prudential Financial in Newark, N.J. "The market is starting to anticipate that earnings expectations will come down later this year."
Another potential worrisome sign on that front is that many other countries are doing their best to weaken their own currencies in an attempt to make their exports more attractive.
Japan has taken steps to rein in the yen. Europe is arguably doing its own version of quantitative easing with its cheap loans to banks, a program known as long-term refinancing operations.
Emerging markets are starting to play fast and loose with monetary policy too. Brazil recently slashed interest rates more aggressively than expected, a move viewed as an attempt to curb the strength of the real.
Then there's China. It has long been criticized for taking actions that other nations believe artificially weaken the yuan. Now that China has acknowledged its own growth is slowing -- it even just reported a huge trade deficit for February -- that could open the door for China's central bank to lower interest rates. And that would probably drag the yuan's value down further.
All that could boost the dollar's value if the Fed is no longer running the printing press 24/7. Fortunately though, the dollar still isn't so strong that it should significantly eat into corporate profits just yet.
And a stronger dollar may also pull down commodity prices. Oil and other commodities that are denominated in dollars tend to rise when the dollar is weak. A healthier dollar may help counteract some of the speculative froth in oil and gas prices due to fears about what might happen in Iran.
"If the dollar gets too much stronger from here, it would be a problem for companies," said Stanley Dash, vice president of applied technical analysis at TradeStation, an online brokerage in Plantation, Fla. "But a little bit of strength will take the edge off the inflation worries. And oil is the big wild card now."
Best of StockTwits: Two Chinese online video sites are merging. Volatility appears to have taken a holiday. And the best performing coffee stock you've never heard of is based in ... Staten Island?
ericjackson: $YOKU - $TUDO merger is like $SIRI - XM from a few years ago, albeit based on ad rev model rather than subs
Interesting comparison. I spoke more about the deal in today's Buzz video .I wonder if Youku (YOKU) and Tudou (TUDO) can pull it off though.
Much like Sirius (SIRI), the new and improved and even bigger YouTube of China will face tough competition from established media giants. It will also have to contend with China search leader Baidu (BIDU).
CapitalOverlook: $VIX $VXX The fear has disappeared. Is that a good or bad thing...
The relative lack of volatility isn't a bad thing necessarily. It is nice to see cooler heads prevail and not have the Dow up or down 200 points every time a new economic report is released in the U.S., Europe or China. That said, the pullback in the VIX (VIX) may also be a sign of investor complacency. That's worrisome.
ivanhoff: By some miraculous irrational reason, today's winner in the coffee wars is $JVA. I remember last yr it went from 5 to 30 in 2months.
To be fair, the move may not be completely irrational. Java Holding (JVA), a coffee wholesaler, did report Friday that its latest quarterly revenues doubled.
But the small company, headquartered in New York City's oft-forgotten borough, has been extremely volatile for the past year. This isn't Starbucks (SBUX, Fortune 500). The stock is not for the faint of any trader's over-caffeinated heart.
The opinions expressed in this commentary are solely those of Paul R. La Monica. Other than Time Warner, the parent of CNNMoney, and Abbott Laboratories, La Monica does not own positions in any individual stocks.