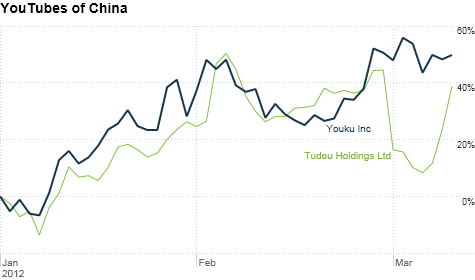 Youku and Tudou merging may be a sign of growing interest in social media in China.
NEW YORK (CNNMoney) -- Two Chinese online video companies agreed to merge Monday in an all-stock deal that will create a major new player in the rapidly growing market.
Under the terms of the roughly $1 billion deal, Tudou Holdings Ltd. (TUDO) shareholders will receive 7.2 Class A shares for each Tudou share. Investors who own U.S.-listed shares of Tudou will be offered 1.6 shares of Youku Inc. (YOKU), according to a joint statement.
The combined company will be called Youku Tudou Inc., which Youku CEO Victor Koo says will become "one of the largest Internet properties in China."
"We intend to lead the next phase of online video development in China," said Koo.
Tudou's American Depository Shares, which trade on the Nasdaq, surged 240% in afternoon trading. Youku's U.S. shares jumped 18% on the New York Stock Exchange.
The deal is expected to close in the third quarter, pending regulatory and shareholder approval.
Often referred to as the YouTube of China, Youku is the nation's leading Internet video company. Tudou was founded in 2005 as the first website in China with user generated content.
Youku and Tudou also both carry professionally produced content, such as TV dramas.
Both companies reported net losses in their most recent quarters as rising content costs offset higher revenues.
Echo He, an analyst at Maxim Group, said the merger of Youku and Tudou was not a surprise given the growing number of online video companies in China.
She said both companies have struggled to manage content costs amid increasing competition from rivals, including search giant Baidu (BIDU).
"At least this means there's one less competitor," said He. In addition, she estimated that the combined companies will have roughly $780 million in cash to spend on content.
That's good news for Youku and Tudou, which both cited rising content costs for offsetting strong revenue in their most recent quarters.
Meanwhile, YouTube has largely been blocked from the Chinese market, where the Google (GOOG, Fortune 500) property is only available on proxy servers.
Monday's news boosted shares of other Chinese Internet companies, including Renren (RENN). Shares of the social networking site rose 4%.
Sina Corp. (SINA), the parent company of Weibo -- China's version of Twitter -- also gained. Shares were up 3.7%