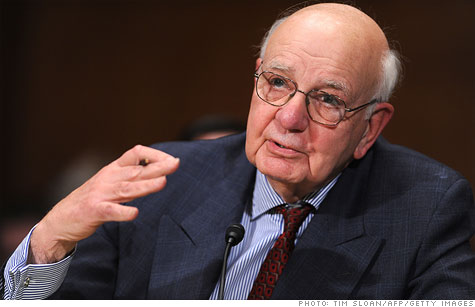 Former Fed chairman Paul Volcker says bold action is needed on the nation's economy.
WASHINGTON (CNNMoney) -- Former Fed Chief Paul Volcker urged U.S. political leaders to join forces for bold action to reduce deficits and secure the nation's future.
In a speech Wednesday that Volcker himself said was intended to be "a little provocative," he challenged U.S. leaders to go further in raising taxes and cutting spending than suggestions laid out by bipartisan deficit-cutting commissions and panels.
"The problem is the United States can no longer claim unchallenged leadership over the world economy," Volcker said at the Economy Summit sponsored by The Atlantic. "We have to do better . . . only a strong economy can ensure our political strength and national security."
Volcker, who led the Fed from 1979 to 1987 and served as an economic adviser to President Obama at the height of the economic crisis, more often talks publicly about financial reforms than budget problems.
His advocacy of the so-called Volcker rule that bars investment banks from trading for their own accounts is a key provision of the Dodd-Frank Wall Street reform measure. (Volcker: Goldman turning away from clients)
But, in switching focus, Volcker said that while the economy has "perked up," he warned of a "long slog ahead of us before we can claim anything like success."
He said while he didn't have a "silver bullet" for short-term economic problems such as the long-suffering housing markets, he called upon public officials to get the nation's fiscal house in order.
Volcker said the debt plan reached by a panel led by Wyoming Republican Alan Simpson and North Carolina Democrat Erskine Bowles as well as the budget deal negotiated in the midst of last year's debt ceiling battle suggest consensus is possible.
But, he added, "I don't want to stop there. My play is for greater boldness," Volcker said, adding that tax reform should be a priority.
Volcker pointed out that President Ronald Reagan approved three tax increases during his tenure, adding that "simplification and revenue enhancement can both be possible in one fell swoop."
He said leaders should consider consumption-based taxes as well as a consolidation of personal and corporate income taxes.
On the cutting side, Volcker warned that Congress shouldn't undermine U.S. military strength, suggesting that the slashing should fall heavier in other areas.
He acknowledged that coming to a deal on cutting deficits won't happen until after the election. But he said he shared the advice he said he recently gave to the Obama administration.
"When we sit back and the election is over, we better be prepared," Volcker said. "Let's not let the lessons of the economic crisis go to waste."