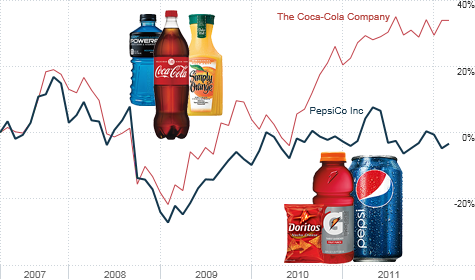 I'd like to buy the world a Coke. Investors have been singing that tune for a few years now -- to the frustration of Pepsi shareholders.
NEW YORK (CNNMoney) -- Fans of old school "Saturday Night Live" remember the famous response of John Belushi's diner owner character to customers of the Olympia Cafe asking for a certain carbonated beverage: "No Coke. Pepsi."
Unfortunately for PepsiCo investors, Wall Street has it the other way around.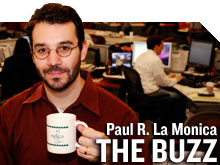 Over the past year, shares of Pepsi (PEP, Fortune 500) are up just 1.4%. That trails arch rival Coca-Cola by a wide margin. Coke (KO, Fortune 500) is it in the eyes of investors, up more than 10% over the past 12 months.
The gap is even bigger since the bull market began in March 2009. Over the past three years, Pepsi gained just 28% compared to a 64% surge for Coke.
As a result, Coke is now trading at a higher multiple than Pepsi. Coke is valued at 17 times 2012 earnings forecasts while Pepsi has a price-to-earnings ratio of about 15.5.
This usually isn't the case. Investors typically had been more willing to pay a premium for Pepsi because of its higher growth potential and greater diversification. Pepsi owns the Frito-Lay snack division in addition to its beverage business.
Pepsi's underperformance has raised questions about whether the company should actually break up. Spinning off Frito-Lay is often mentioned as an option.
But Pepsi doesn't seem ready to do that just yet. In a statement, the company said that "the overriding finding from our portfolio analysis is that PepsiCo's value is maximized as one company."
Instead, it's going with the management shakeup route, which may irritate some investors.
On Monday, Pepsi CEO Indra Nooyi, who has faced criticism for losing ground to Coke, announced that PepsiCo America Foods CEO John Compton was named to the new position of president of all of PepsiCo. That could set him up to succeed Nooyi.
However, Pepsi said in its statement that "Indra Nooyi remains firmly at the helm, with a deep bench of talented executives."
Pepsi also said that it hired Brian Cornell, who had been CEO of Wal-Mart (WMT, Fortune 500) subsidiary Sam's Club, to replace Compton as PepsiCo America Foods CEO. Cornell, who previously was the chief marketing officer for supermarket chain Safeway (SWY, Fortune 500) and CEO of arts and crafts store Michaels, also has experience at Pepsi. He led its Tropicana unit and other divisions before leaving for Safeway.
In his new role, Cornell will oversee Frito-Lay as well as Pepsi-owned Quaker Oats. Sure, you could interpret these moves as a sign that Pepsi wants to dress up the food division to make it more attractive as a stand-alone company.
At least one shareholder isn't buying that logic.
"I don't think a break-up is inevitable. It makes sense to give the current management a little more time to try and improve on execution," said Mark Finn, manager of the T. Rowe Price Value Fund (TRVLX) in Baltimore. Finn owns Pepsi, but not Coke, in the fund.
But make no mistake: Pepsi has to do something to turn around its fortunes. Analysts expect Pepsi's earnings per share to drop 7% in 2012 and rebound to a level only slightly above 2011 levels next year. Coke's profits are forecast to rise at a 6% clip this year and another 10% in 2013.
Both Pepsi and Coke have to deal with the fact that soda (or pop) is a mature business in developed markets. That's why they've both invested heavily in other products like juice, tea, bottled water and, in Pepsi's case, food.
But investors want to see both companies do a better job of expanding overseas, particularly in developing markets. So far, Coke is winning that battle -- even though Pepsi is a bigger company worldwide.
Pepsi had $66.5 billion in sales in 2011 compared with $46.5 billion for Coke. However, Pepsi generated 22% of revenue from Latin America, Asia, the Middle East and Africa. Coke, on the other hand, had nearly 30% of its sales from these markets.
"Coke got a head start in emerging markets so investors shouldn't expect Pepsi to catch them there just yet. Pepsi needs to pick its battles," said Ted Parrish, co-manager of the Henssler Equity Fund (HEQFX) in Kennesaw, Ga.
Parrish is a long-time shareholder of Pepsi. I first quoted him in a piece about Pepsi and Coke nearly 10 years ago. He thinks Pepsi could do a better job at home too. In particular, he said the marketing of products like Gatorade and Tropicana to consumers has been a bit confusing in the past few years. He said he's hopeful that bringing Cornell back to the fold will help change that.
But Frito-Lay spin-off talk is unlikely to die down until Pepsi shows some fundamental improvement. In fact, Finn said those spin-off calls may increase if other consumer staples companies are able to successfully pull off upcoming splits.
Kraft (KFT, Fortune 500) is planning to split its global snack unit (think Oreo and Cadbury) from its North American grocery division (mac & cheese, Oscar Mayer, etc.) later this year.
And Sara Lee (SLE, Fortune 500) plans to split its meat business (includes Ball Park hot dogs, Jimmy Dean sausages) from its international tea and coffee unit. Sara Lee actually just announced a cumbersome new name for the beverage spin-off: D.E Master Blenders 1753. (Still better than Qwikster, I guess.)
Parrish conceded that if those break-ups fare well, then Pepsi's management should think about a split as well -- especially if earnings do not pick up.
"I am willing to wait a little longer to see if Pepsi can get things back in order. But I am not going to wait and sit on dead money forever," he said.
Best of StockTwits: What's crazier: the rise in big bank stocks or Apple (AAPL, Fortune 500)? Cisco (CSCO, Fortune 500) is spending some "caysh" on an acquisition. And did the Oracle of Omaha's latest bathtub investing epiphany involve coal?
Ktr8der: While everyone is whining about $AAPL being parabolic, $BAC is up 60% YTD vs up 45%. Changing the world vs owning Countrywide. ;)
Ha. BofA (BAC, Fortune 500) is showing that moral hazards can be profitable. But what if Apple is forced by the Canadian government to bail out Research in Motion (RIMM)? The PlayBook may be the subprime of the tablet world.
Nils1975: $CSCO strengthens Videoscape offering (content delivery over multiple devices for SPs) w/ NDS $4B (offshore cash & accretive) acquisition.
This is a very interesting deal for Cisco. I talked more about it in the Buzz video. It makes strategic sense. But weren't investors hoping Chambers would tone it down on the acquisitions? Stock was down more than 1% Thursday.
vcutrader: Rumor Mill flying on coal names - Buffett looking at sector $KOL $WLT $ANR
Note that all the chatter of Warren Bufffett's Berkshire Hathaway (BRKA, Fortune 500) buying a coal company is just idle speculation. Looks like most of it centered around Peabody (BTU, Fortune 500), as opposed to Walter (WLT) or Alpha (ANR).
But Berkshire already owns a big railroad with Burlington Northern Santa Fe. And that business is closely tied to coal. Hmm.
The opinions expressed in this commentary are solely those of Paul R. La Monica. Other than Time Warner, the parent of CNNMoney, and Abbott Laboratories, La Monica does not own positions in any individual stocks.