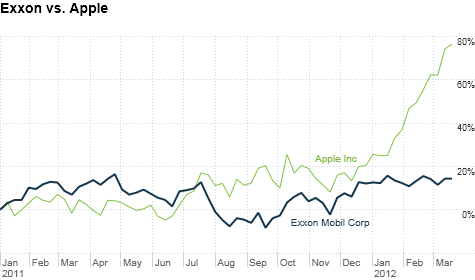 Exxon's shares edge up, while Apple's continue to soar.
NEW YORK (CNNMoney) -- It's been quite a Monday for Apple. Not only did the tech giant announce plans to give investors a $2.65 quarterly dividend and announce plans to buy back $10 billion worth of stock, but it officially landed the top spot in CNNMoney's March Stock Mania tournament.
CNNMoney readers chose Apple (AAPL, Fortune 500) over Exxon Mobil (XOM, Fortune 500) in the finals. Apple grabbed 65% of readers' votes in the last round.
It's a comeback of sorts for Apple in the March tournament. Last year, the tech company was bested by automaker Ford, earning just 43% of readers' votes.
The final four pitted three tech companies, Apple, IBM (IBM, Fortune 500) and Google (GOOG, Fortune 500), against Exxon.
In total, 65,845 votes were cast during the week-long contest.
Few companies can match the precipitous run-up in Apple's share price, which has surged 81% since December 2010. And since the beginning of 2012, Apple's stock has gained 45%.
Compare that with Exxon's shares, which have risen only 18% since December 2010, and gained only 2% in 2012, despite a frothy stock market.
Exxon and other oil companies have faced an uphill public relations battle in the aftermath of the devastation caused by BP's oil spill. Add the recent jump in gas prices, and it's not getting any easier.
"What will you do? Put your money into a company that's helping destroy the planet, or one that innovates? Revolution or pollution? iPad or oil spill?," commented one CNNMoney reader.
Even with Apple's share price hovering around $600, Wall Street analysts see more growth ahead.
Matthew Hoffman, an analyst with Cowen, said that the successful launch of the third generation of the iPad will continue to give Apple an edge in the "combined personal computer + tablet market."
Even with the loss of Apple's visionary founder Steve Jobs from a battle with cancer last year, most analysts think Apple will continue putting forth game changing products.
Apple was a clear leader throughout March Stock Mania.
It won 93% of the votes in the first round against newly public Zynga (ZNGA), 88% against McDonald's (MCD, Fortune 500) in round two, and 85% of the votes against Wal-Mart (WMT, Fortune 500) in round three. In the Final Four, 67% of voter chose Apple over IBM.
Last year's champion Ford did better in March Stock Mania than last year's NCAA winner University of Connecticut. UConn made it to the NCAA but lost in the first round.
Ford showed up and competed well this year, but failed to make the final four losing out to IBM.
It looks pretty clear that CNNMoney's readers are betting on a continued tech boom.