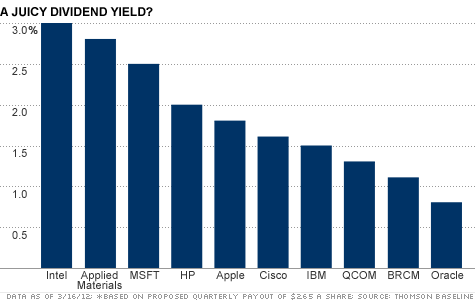 Who says dividends are just for boring businesses? Apple joins a long list of tech firms that pay a dividend. And while Apple's yield is higher than some, it still trails other industry leaders.
NEW YORK (CNNMoney) -- Should we call it the iPayout?
Yes, Apple has become one of those boring, mature companies that will pay investors a dividend. But ask yourself this. Would you rather own "stodgy" Apple or a 10-Year U.S. Treasury note yielding around 2.3%?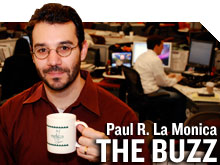 If you answered the latter, I guess you can stop reading. But if my suspicions are correct, you prefer the maker of iEverything. And you should.
"When you can invest in a company that has nearly a 2% yield and can increase its dividend, that gives you an embedded inflation hedge that doesn't exist with bonds," said Mike Mussio, portfolio manager at FBB Capital Partners, a Bethesda, Md.-based investment firm that owns a stake in Apple.
"The allure of owning a blue chip company that can raise its dividend above the rate of inflation is very appealing," he added.
Shares of Apple (AAPL, Fortune 500) rose about 2% Monday afternoon following the dividend announcement Apple is also planning a $10 billion stock buyback program. Heck, Apple beat out Exxon Mobil (XOM, Fortune 500) in our annual March Stock Mania investing bracket too.
I am glad to see investors not selling on the dividend news. Apple is no less exciting now that it has finally decided to deploy some of its nearly $100 billion in cash than it was before the announcement.
Investors would be wise to recognize the allure of dividends overall. Many top companies, including Pfizer (PFE, Fortune 500), McDonald's (MCD, Fortune 500) and Coca-Cola (KO, Fortune 500), have all raised their dividend in the past few months.
Then there's the banks. Following the release of the Fed's stress test results last week, there was a flurry of banks rushing to boost their quarterly payments to investors. JPMorgan Chase (JPM, Fortune 500), U.S. Bancorp (USB, Fortune 500), BB&T (BBT, Fortune 500), Wells Fargo (WFC, Fortune 500) and State Street (STT, Fortune 500) all raised their dividends after passing the stress test.
Dividends are good news for investors, even more so than a stock buyback.
Share repurchases may only help offset dilution from new shares issued as part of options plans for employees. And there is nothing that obligates a company to follow up on plans to buy back stock. Many firms wind up purchasing a smaller amount of shares than they originally said they would.
But a dividend is tangible evidence of a company's health. You can't fake a dividend. You either pay your shareholders cash every quarter or you don't. And for savvy investors, they are an easy way to increase your stake in a company with "found money." Most companies offer shareholders plans that allow them to reinvest dividend payments back into the stock.
What's more, companies that are in solid shape tend to raise their dividend year-in and year-out.
Apple is paying a healthy dividend that yields around 1.8%. But there's a lot of room for that payout to grow. Apple's yield is slightly lower than the average for the S&P 500 and also below the yields of Intel (INTC, Fortune 500), Microsoft (MSFT, Fortune 500), HP (HPQ, Fortune 500) and other big tech peers.
Momentum investors should no longer fear that a dividend is a sign of a company that has nothing better to do with its cash.
"I am glad to see logic prevail. Apple is doing what's best for shareholders with its cash. And it's not like it won't continue to spend money on research and development," said John Snyder, manager of the John Hancock Sovereign Investors Fund (SOVIX) in Berwyn, Pa., and an owner of the stock. "Apple's yield could have been even higher."
Many tech companies pay dividends and are still innovating. IBM (IBM, Fortune 500) has a dividend and the stock is near an all-time high. A dividend also hasn't prevented Microsoft from unveiling products like the Xbox and widely anticipated Windows 8 operating system.
In fact, large tech companies with dividends have done slightly better than non-dividend payers recently.
Of the 71 techs in the S&P 500, the 37 that pay dividends have a total return of 12.1% over the past year, according to Thomson Baseline. The 34 non-dividend payers, a group that includes Google (GOOG, Fortune 500), eBay (EBAY, Fortune 500) and Yahoo (YHOO, Fortune 500), have returned 7.3%.
Apple is actually still part of that group since it's not paying a dividend yet. And it's up 75% over the past year. Remove it from the group of tech misers and the 33 remaining stocks are up just 5.3%.
"In tech, some investors say that declaring a dividend means the growth story is over. But paying a dividend if you have a lot of cash makes sense," said Paul Hogan, co-manager for the FAM Equity-Income Fund (FAMEX) in Cobleskill, NY.
"There is no evidence that a tech company with a dividend will underperform," Hogan added. His firm does not own shares of Apple.
With all that in mind, investors should expect more companies to either start dividends this year or boost existing ones. And there is a compelling reason to do so besides the fact that investors have fallen in love with dividend payers.
Joseph Perry, partner-in-charge of the Tax & Business Services practice at Marcum LLP, an accounting firm in New York, added that many companies may want to make announcements on dividends before potential new rules in Congress that will significantly raise the tax rate for dividends go into effect next year.
Perry said rewarding shareholders with a few quarters of dividend payments this year before the higher rates kick in makes a lot of sense.
And Mussio said investors will probably still flock to dividends as long as bond rates are so low -- regardless of what happens to taxes.
"We still don't know for certain what will happen with dividend tax rates. But whether they are higher or lower, investors will still need sources of income," he said.
It's nice to see that Apple will finally soon be one of those income sources.
Best of StockTwits: Surprise! More Apple!
daytrend: For all the wonder that $AAPL has done, a dividend & buyback are the least creative of it. Tim should replace himself.
ldrogen: even with Jobs gone, I would trust $AAPL to produce a greater return on cash than most could in this low interest rate environment
MichaelComeau: iYawn? $AAPL announces dividend and buyback.
I am not sure why some investors are disappointed. What should CEO Tim Cook have done with Apple's cash that Steve Jobs hadn't already done? Try and create a second-rate Facebook clone? Yes, I'm looking at you Google. Waste it on a big acquisition? Yes, I'm talking about you, HP. And Cisco. And Yahoo.
I agree that a buyback may not do that much good. But a dividend rewards shareholders. And cash sitting in the coffers does little as long as interest rates are puny. In case you forgot, the Fed isn't currently planning to hike rates this year. Or next.
tradefast: top 5 dividend mutual funds that don't own $AAPL shares have nearly $200 bln in assets.
That's a great point. Most growth funds-- and even many value funds -- already own Apple. But some funds with strict rules that require them to only buy companies that pay dividends may finally take a bite out of Apple.
The opinions expressed in this commentary are solely those of Paul R. La Monica. Other than Time Warner, the parent of CNNMoney, and Abbott Laboratories, La Monica does not own positions in any individual stocks.