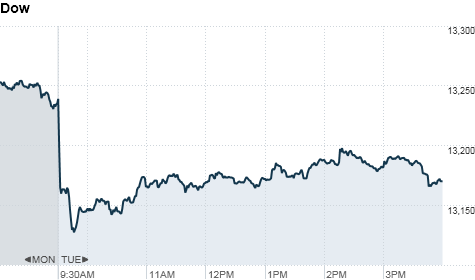 Click for more market data.
NEW YORK (CNNMoney) -- U.S. stocks closed lower Tuesday as concerns about slowing growth in China overshadowed an upbeat report on the U.S. housing market.
The Dow Jones industrial average (INDU) fell 69 points, or 0.5%, to end at 13,170. The S&P 500 (SPX) sank 4 points, or 0.3%, to 1,405. The Nasdaq (COMP) slid 4 points, or 0.1%, to 3,074.
The selling came as prices for industrial commodities fell on worries that China, the world's second-largest economy, is headed for a slowdown. Oil prices sank 2.3% and copper prices fell 2%.
Officials in China announced plans to allow gas prices to rise in an effort to compensate for higher oil prices. Meanwhile, home prices were down in major cities across China, according to government statistics.
"There has been a lot of chatter about slowing growth in China," said Ryan Larson, a senior equity trader at RBC Global Asset Management.
Investors were also rattled by reports that the chief executive of mining giant BHP Billiton said China's steel production is slowing, raising fears about the nation's property market.
Shares of economically sensitive U.S. companies in the industrial and materials sector led the retreat, with Caterpillar (CAT, Fortune 500), Alcoa (AA, Fortune 500) and Chevron (CVX, Fortune 500) down sharply. But shares of Bank of America (BAC, Fortune 500), Cisco (CSCO, Fortune 500) and Home Depot (HD, Fortune 500) bucked the trend.
The selling came despite U.S. government data that showed a big increase in requests for building permits, although initial constructing of new homes declined in February.
"Housing has certainly seen an uptick, but it remains very much a mixed picture," Larson said.
Despite the pullback Tuesday, stocks have been supported recently by rising hopes for the U.S. economy and easing concerns about the debt crisis in Europe.
The Dow has gained nearly 8% this year and remains near the highest point since 2008. The S&P 500 is up 18% and the Nasdaq has added 11% so far in 2012.
Stocks closed with modest gains Monday after a morning of choppy trading.

Economy: Future home construction showed signs of strength in February, with permits climbing 5.1% to an annual rate of 717,000, topping analyst predictions of 695,000.
Housing starts dipped 1.1% to 698,000, below estimates.
On Capitol Hill, Treasury Secretary Tim Geithner told lawmakers that steps taken by European policy makers have helped alleviate tensions in the global financial markets, but said more needs to be done to revive the European economy.
Geithner reiterated that the United States remains opposed to providing additional resources for the International Monetary Fund.
Meanwhile, House Republicans unveiled a $3.53 trillion budget for 2013 that is expected to face resistance in the Democratic-controlled Senate.
Companies: After the market closed, Oracle (ORCL, Fortune 500) reported fiscal third quarter earnings of 62 cents a share, up from 54 cents a share a year earlier. Analysts had forecast earnings of 56 cents a share. Shares of the tech company were up 3% in extended trading.
Earlier, Jefferies Group (JEF) posted quarterly earnings of 33 cents per share on strong gains in its investment banking business, topping analyst estimates. The firm also beat on revenue.
Shares of Tiffany & Co (TIF) rose after the luxury jeweler reported sales of $1.2 billion -- in line with forecasts -- and issued an upbeat outlook.
Shares of Adobe Systems (ADBE) fell after the software maker issued earnings and guidance in line with expectations late Monday.
Michael Kors (KORS)' stock got a boost after the fashion company hiked its outlook.
Amazon (AMZN, Fortune 500) shares rose after the online retailer announced plans to buy Kiva Systems, a manufacturer of bright orange robots that scuttle around warehouses filling orders, for $775 million.
Shares of Chinese solar companies surged, after the U.S. Commerce Department imposed smaller-than-expected tariffs on solar panels imported from China. Yingli Green Energy Holding (YGE), Suntech Power Holding (STP) and Trina Solar (TSL) were up between 10% and 15%.
On the flip side, shares of U.S. solar panel companies First Solar (FSLR) and SunPower (SPWR) slumped.
Oracle (ORCL, Fortune 500) is slated to report earnings after the bell Tuesday. The tech firm is expected to earn 56 cents a share on $9 billion of revenue.
Bank of America shares edged up after the bank denied speculation Monday that it's planning to raise money by issuing stock in a secondary offering.
World markets: European stocks closed lower. Britain's FTSE 100 (UKX) lost 1.2%, the DAX (DAX) in Germany and France's CAC 40 (CAC40) both fell 1.4%.
Asian markets ended lower. The Shanghai Composite (SHCOMP) dropped 1.4% and the Hang Seng (HSI) in Hong Kong lost 1.1%. Japan's markets were closed for the vernal equinox holiday.
A report from the Chinese National Bureau of Statistics showed new home prices declined in 45 out of 70 major cities, while prices were static in 21 others, underscoring concerns about slower growth.
Separately, Chinese government planners hiked prices on gasoline and diesel fuel as they respond to the rising cost of crude oil.
Currencies and commodities: The dollar strengthened against the euro, the British pound and the Japanese yen.
Oil for April delivery slipped $2.48 to end at $105.61 a barrel.
Oil for May delivery became the active contract at the market close. The contract fell $2.49 to settle at $106.07 Tuesday.
Gold futures for April delivery fell $20.30 to end at $1,647 an ounce.
Bonds: The price on the benchmark 10-year U.S. Treasury rose, pushing the yield down to 2.35% from 2.38% late Monday.