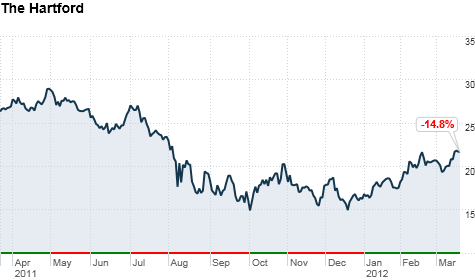 Shares of The Hartford have been buffeted in 2012 by talk of a potential breakup. Click chart for more.
NEW YORK (CNNMoney) -- The Hartford Financial Services Group said Wednesday that it's exiting the annuities and life insurance businesses to focus on property and casualty insurance -- a move that hedge fund investor John Paulson pushed for just last month.
Hartford (HIG, Fortune 500) plans to stop selling new annuities and spin off or sell its individual life insurance business. The company said the changes will give it "reduced sensitivity to capital markets."
Hartford, which has a market valuation of nearly $10 billion, was one of the recipients of government funds during the financial crisis.
Shares of Hartford jumped 5% following the announcement. The stock has gained more than than 13% since Feb. 8, when John Paulson publicly pushed for a breakup during an earnings conference call.
"The actions announced today will allow us to build on our strong financial foundation by concentrating our resources on a smaller number of businesses to position Hartford for long-term success," said chief financial officer Christopher Swift.
Should a breakup of Hartford continue to unlock shareholder value as both the company and Paulson say they expect, it would be a rare recent win for John Paulson's hedge fund, Paulson & Co.
Paulson, one of the big winners from the carnage of the financial crisis, has made a series of failed bets over the past year. After betting big on bank stocks, such as Bank of America (BAC, Fortune 500) and Citigroup (C, Fortune 500), Paulson sold those same shares ahead of their recent run-up.
Hartford's move also signals yet another win this year for activist investors.
Just this week, UPS (UPS, Fortune 500) announced it would buy Dutch shipping company TNT Express for $6.8 billion. Activist investor Jana Partners had been pushing TNT (TNTEY) for a sale or a shakeup at the company.
Companies appear to be increasingly bowing to pressures from hedge fund and other outside investors to make strategic or board changes to increase share value.
Many investors and analysts expect activism to heat up over the next few months as proxy season gets underway.
During proxy season, shareholders have the chance to vote for or against a company's board of directors and other resolutions.
Yahoo (YHOO, Fortune 500) is in the midst of its own battle with activist shareholder Third Point. According to an SEC filing late Tuesday night, Third Point's Dan Loeb is proposing its own slate of four directors for Yahoo's board to change the direction of the company.