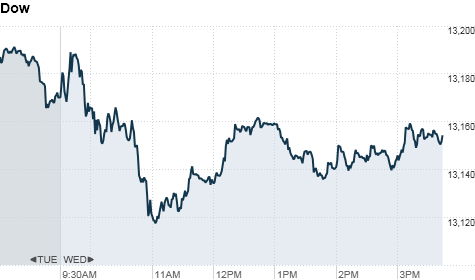 Click for more market data.
NEW YORK (CNNMoney) -- U.S. stocks faltered Wednesday, with the broader market ending lower for a second day, after the latest report on new home sales damped enthusiasm about the economy.
The Dow Jones industrial average (INDU) fell 45 points, or 0.3%, to end at 13,124. Hewlett-Packard (HPQ, Fortune 500) was the biggest drag on the blue chip index after the company announced plans to combine its printer and personal computer divisions.
The S&P 500 (SPX) lost 3 points, or 0.2%, to 1,403.
The Nasdaq (COMP) gained 1 point, or less than 0.1%, to 3,075. The tech-heavy index was supported by shares of Green Mountain Coffee Roasters (GMCR), which surged on news of a deal with Starbucks (SBUX, Fortune 500).
Stocks came under pressure after a realtors group said existing home sales fell in February. The report came after government data released Tuesday showed a dip in new home construction.
Wednesday's housing report caught many investors by surprise and raised concerns about the glut of foreclosures weighing on the market, said Jack Ablin, chief investment officer at Harris Private Bank in Chicago.
"There was some optimism built into existing home sales," Ablin said. "But the actual number left investors a little disappointed."
Ablin added that trading volumes have been low this month and that "the market is more or less taking a breather." In addition, he said seasonal factors may be behind the listless moves.
"We're having unseasonably warm weather in New York and Chicago today, and I think some traders may be swapping their clipboards for golf clubs," he joked.
Overall, stocks have been supported this year by rising hopes for the U.S. economy and easing concerns about the debt crisis in Europe. But given the strength of the recent rally, analysts say a period of choppy trading is to be expected.
"The market has had an explosive run, so it's not surprising to see some volatility," said Doug Cote, chief market strategist at ING Investment Management.
Cote called the volatility "healthy" and said the market is still poised to go higher this year. He said stocks remain undervalued and that the rally could be sustained by continued improvement in economic data.
"The preponderance of economic numbers have been beating expectations," Cote said, pointing to reports on manufacturing, consumer spending and employment.
U.S. stocks closed lower Tuesday, as concerns about slowing growth in China overshadowed the upbeat housing data.

Economy: Existing home sales for February came in at an annual rate of 4.59 million in February, according to the National Association of Realtors.
The sales pace was down 0.9% from an upwardly revised 4.63 million in January and was roughly in line with economists' expectations.
A government report Tuesday showed a big increase in requests for building permits in February, but new home construction was weaker than expected.
Gas prices rose by 1.8 cents to a national average of $3.86, according to motorist group AAA. Wednesday marks the twelfth consecutive day prices have risen. Gas prices are up 17.8% this year.
Companies: Gaming app company Zynga (ZNGA) said Wednesday it is buying OMGPop, the maker of hit game "Draw Something." Financial terms of the deal were not disclosed.
Shares of Watson Pharmaceuticals (WPI) jumped on reports the generic drug maker is close to buying Swiss based Actavis for around $7 billion.
Baker Hughes (BHI, Fortune 500) was under pressure after the oil field services company lowered its outlook for fourth quarter profits, citing "rapidly changing market conditions" for its pressure pumping product line.
Hartford Financial Services Group (HIG, Fortune 500) gained ground after the company said it was exiting the annuity business and spinning off its life insurance business -- a move advocated by hedge-fund manager John Paulson, who owns a sizable stake in the company.
Lions Gate Entertainment (LGF) continued to draw attention as investors bet the company will benefit from the opening of "The Hunger Games" movie this Friday.
General Mills (GIS, Fortune 500) reported sales of $4.1 billion, and earnings per share of 55 cents on Wednesday morning. The food producer cited its international acquisition of Yoplait as a source of growth, but noted that its margins were squeezed by higher input prices.
Currencies and commodities: The dollar lost ground against the euro, but gained against the British pound and the Japanese yen.
Oil for May delivery rose $1.20 to settle at $107.27 a barrel.
Gold futures for April delivery rose $3.30 to end at $1,650.30 an ounce.
Bonds: The price on the benchmark 10-year U.S. Treasury rose, pushing yields down to 2.34% from 2.37% late Tuesday.
World markets: European stocks closed mixed. Britain's FTSE 100 (UKX) ended little changed, the DAX (DAX) in Germany added 0.2% and France's CAC 40 (CAC40) eased 0.1%.
Asian markets ended mixed. The Shanghai Composite (SHCOMP) ticked up 0.1% while the Hang Seng (HSI) in Hong Kong shed 0.2%. Japan's Nikkei (N225) lost 0.6%.