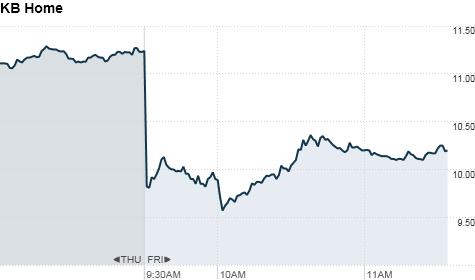 NEW YORK (CNNMoney) -- Shares of residential construction companies were under pressure Friday after KB Home reported a sharp drop in new orders, raising worries about the all-important spring selling season.
KB Home said new orders fell 8% in the first quarter, driven by sharp declines in the Southwest and West. It also reported an increase in the cancellation rate of new orders, which rose to 36% in the quarter.
Jeffrey Mezger, the homebuilder's chief executive, downplayed the results in a conference call with analysts.
"We do not believe that our net new order results are reflective of current market conditions," said Mezger.
He said orders were impacted by "a combination of circumstances," including changes made by the company's preferred lender, MetLife, which resulted in 140 contracts being canceled during the quarter.
KB Homes has since established a relationship with a new preferred lender, Nation Star, according to Mezger.
In addition, he said the drop in orders stems from the company's focus on improving profit margins and changes in its "geographic foot print."
KB Home has significantly downsized its operations in Arizona and exited South Carolina and Charlotte, N.C.
Mezger stressed that the results do not paint an accurate picture of the trends in the housing market.
"The results are not a reflection of the housing market as a whole, which we think is improving," he said.
He pointed to gains in the job market and rising consumer confidence, which he said are "underscoring what we're seeing on the ground."
But he cautioned that the recovery in the housing market is "uneven and very localized."
"There's no question that things are better," said Mezger. "But we maintain that it will take some time for markets to recover."
Meanwhile, KB Home reported a net loss of $45.8 million, or 59 cents per share, for the first quarter. Analysts had expected the company to lose 24 cents a share, according to estimates from Thomson Reuters.
"It was a disappointment across the board," said Megan McGrath, an analyst at MKM Partners, pointing to the company's narrowing profit margins and declining cash balance.
Shares of KB Home (KBH) were down 4% in early afternoon trading. The selling spilled over to other builders. Shares of Hovnanian (HOV), DR Horton (DHI, Fortune 500), Lennar (LEN) and Toll Brothers (TOL) were all lower Friday.
In a note to clients, analysts at JPMorgan said the drop in new orders at KB Home was "likely an outlier." But the analysts warned that expectations for an overall increase in new orders of 25% for the quarter may be overly optimistic.
Despite Friday's sell-off, KB Home is still up about 52% so far this year. The stock was one of the top performers in the S&P 500 index year-to-date as of Thursday's close.
"Given the big run in the stock, investors were expecting significant improvement," said McGrath. "But they didn't get it."
Investors have been bidding up shares of homebuilders this year amid hopes the U.S. housing market has finally bottomed out after years of decline.
But the results from KB Home came on the same day as a weaker than expected report on new home sales in February. The government said new homes sold at an annualized pace of 313,000 during the month, down 1.6% from the month prior.
It was the latest in a string of mixed reports this week on existing home sales and new home construction in February. Bucking the trend, a report on building permits was the strongest in more than three years.
The data suggest the housing market "was just kind of OK in February," said McGrath.
Looking ahead, analysts are eager to see how home sales develop during the spring, the peak season for home buying.
Some economists say the housing market is poised to rebound on historically low mortgage rates, falling prices and the improving job market.
"Future sales look promising," said Sam Bullard, a senior economist at Wells Fargo Securities.
While he cautioned that "more healing needs to be done," Bullard estimated that new home sales could rise 12% in 2012, which would be the first annual increase in seven years.