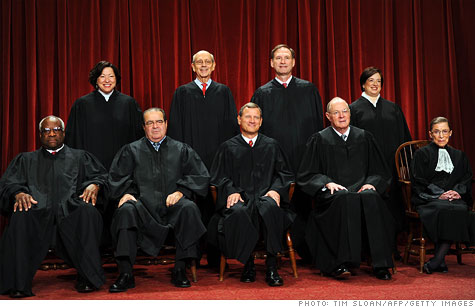 These nine men and women may decide the fate of President Obama's signature health care reform plan ... but they may not necessarily impact big health care stocks.
NEW YORK (CNNMoney) -- All eyes have been on the Supreme Court this week as the justices listened to three days of arguments regarding the constitutionality of President Obama's health care reform plan.
Much is at stake politically. And whether or not the court ultimately decides in a few months to uphold the law in its entirety, throw it all out, sever the individual mandate from the rest of "Obamacare" or punt entirely, this could be a big deal for consumers too.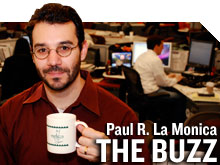 But investors? So far, they are not showing much concern. In fact, shares of the companies that stand to gain or lose the most from the eventual Supreme Court ruling -- health care insurers -- are having a fantastic year.
The iShares Dow Jones US Healthcare Provider Index (IHF) exchange-traded fund is up 11% year-to-date. That ETF includes big insurers UnitedHealth (UNH, Fortune 500), WellPoint (WLP, Fortune 500), Aetna (AET, Fortune 500), Humana (HUM, Fortune 500) and Cigna (CI, Fortune 500).
This is a bit of a surprise. Conventional wisdom is that overturning the key individual mandate portion of the law could be bad for insurers. If the law is upheld in its entirety, millions more Americans will be required to buy insurance.
Without Obamacare, insurers go back to the status quo -- and profit margins may take a hit.
Sarah James, an analyst with Wedbush Securities in Los Angeles, said that without the mandate, more healthy people will have incentive to not choose health insurance -- while sick people may rush to join only when they need it.
That phenomenon, known in the insurance world as "adverse selection," is not ideal for earnings.
"If the mandate is overturned, there could be some pressure on the stocks. But I still think the majority of investors believe the law will be upheld as is," James said.
They might be wrong.
Some legal experts are predicting that the law might not survive in its current form. That forecast is based on the pointed questions from some of the more conservative justices this week about whether the federal government could be forced to make people buy other products such as cars, smartphones, gym memberships and even broccoli -- the most unfairly maligned vegetable IMHO.
James conceded that questions from "swing vote" justices were more "heavy-handed" than she expected. But she said she still thinks shares of Humana and UnitedHealth are good bets because they are more diversified than competitors and could better withstand potential changes to the health care reform law.
Les Funtleyder, portfolio manager for the Miller Tabak Healthcare Transformation (MTHFX) fund in New York, agreed. His fund owns Humana and UnitedHealth, and he cited their diversity as what makes them most attractive.
But Funtleyder added that even if the Supreme Court does shoot down the individual mandate -- or the entire health care reform law -- it would not be a complete disaster for the insurance companies. The main reason is that he thinks insurers would react to any changes by taking on less risk.
"There is the perception that overturning the individual mandate is bad for managed-care companies. But you can't force companies to take a loss. They would just pull out of markets that are not profitable," he said.
And if that happened, that could once again put pressure on politicians to try to enact some sort of change in how consumers pay for medical bills. So killing the current health care plan won't end the debate for good.
"Even if the whole law is overturned, the conditions that led us to need reform -- namely that health care costs are out of control -- are still there," he said. "We will still need some sort of reform. People will realize that when cooler heads prevail."
Best of StockTwits: Run, rabbit, run! Organic mac-and-cheese maker Annie's (BNNY) -- with its impossibly cute bunny logo and BNNY ticker symbol -- surged more than 70% on its first day of trading.
RonReuven: With the skyrocketing of $BNNY IPO and high valuation of $HAIN & $WFM, $STKL looks like cheapest $1BB co organic play.
Interesting. I discussed Hain Celestial (HAIN) and Whole Foods (WFM) in today's Buzz video. But I overlooked SunOpta (STKL), a Canadian company that makes private-label organic fruit snacks.
TraceyRyniec: Are you in $BNNY? Everyone else has bought Annie's. Shares up 67% on the IPO. Is it a sign of the market topping? It's mac n' cheese!
abubnic $BNNY Cheaper to buy a case of Annie's Cheddar Mac than one share of the stock!
Baby Buzz swears by Annie's mac and cheese and other snacks. But the stock's rise does seem a bit excessive. Tulips. Internet stocks. Housing. Do we need to add cheddar bunnies to the list of asset bubbles?
odyssea: $BNNY Opens today Nice ticker symbol I thought it was Playboy Entertainment
Hilarious. But trust me. You'd much rather invest in food than magazine publishing.
The opinions expressed in this commentary are solely those of Paul R. La Monica. Other than Time Warner, the parent of CNNMoney, and Abbott Laboratories, La Monica does not own positions in any individual stocks.