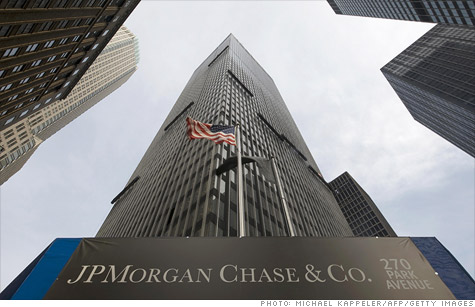 JPMorgan Chase agreed to the settlement in the Lehman case without admitting or denying wrongdoing.
NEW YORK (CNNMoney) -- JPMorgan Chase has agreed to pay $20 million to settle a federal suit over the handling of Lehman Brothers customer funds in connection with the firm's spectacular 2008 collapse.
In an order dated Wednesday, the Commodity Futures Trading Commission said JPMorgan had overextended credit to Lehman Brothers in the two years prior to its bankruptcy, the largest Chapter 11 filing in U.S. history.
Lehman held funds of customers who traded in futures on deposit at JPMorgan. It also had its own accounts there, and took out short-term loans from JPMorgan to finance its own business.
When determining how much it was legally allowed to lend to Lehman in such transactions, JPMorgan made its calculations based on the amount of money held on deposit by both Lehman and Lehman customers, the CFTC said.
Under federal regulations, however, customer money cannot serve as a basis for loans extended to anyone but that customer.
JPMorgan (JPM, Fortune 500) said in a statement that it had included customer money in its calculations by mistake. It agreed to settle the matter without admitting or denying wrongdoing.
"The firm cooperated with the investigation and is pleased to have resolved this matter with the CFTC," JPMorgan said.
The CFTC also cited JPMorgan for withholding funds belonging to Lehman customers following Lehman's bankruptcy filing in September 2008, the height of the financial crisis. JPMorgan only released this money two weeks later, after prompting from the CFTC.
JPMorgan spokeswoman Mary Sedarat attributed the withholding of these funds to "the chaos of the week, which led to delays in back-office procedures."
David Meister, director of the CFTC's enforcement division, said federal laws "impose critical restrictions on how financial institutions can treat customer funds, and prohibit these institutions from standing in the way of immediate withdrawal."
"As should be crystal clear, these laws must be strictly observed at all times, whether the markets are calm or in crisis," Meister said in a statement.
The handling of futures customer accounts is also a central issue in the case of MF Global, the brokerage run by former New Jersey governor Jon Corzine before its collapse last year.
In that case, MF Global unlawfully used the money of its own customers to cover a $175 million overdraft at JPMorgan. This was one of several transactions that led to a shortfall of $1.6 billion in MF Global customer funds that has yet to be recovered.
In Lehman's case, however, the firm itself was not accused of misusing client funds and customers did not lose any money.
News of Wednesday's settlement was first reported by the New York Times. JPMorgan shares were down 2.6% Wednesday afternoon.
A 2010 report by a court-appointed investigator concluded that Lehman's failure was due primarily to excessive risk-taking during the housing bubble and failures of the firm's executives and auditors.