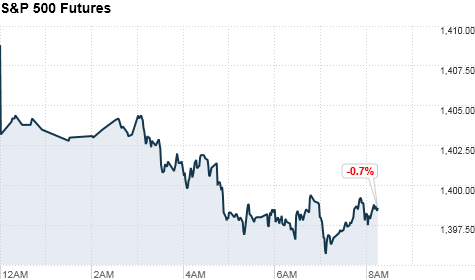 Click chart for more premarket data
NEW YORK (CNNMoney) -- U.S. stocks were headed for a sharp selloff Wednesday, with anxiety lingering after Federal Reserve policy makers indicated that no new stimulus is likely.
A report showing a lower-than-expected increase in private sector jobs for March added to that anxiety.
Some investors had been hoping the Fed would move toward another round of quantitative easing, a prospect that now appears dim following Tuesday's release of minutes from last month's meeting.
"It certainly has taken people by surprise," said Chris Beauchamp, an analyst at IG Markets in the United Kingdom. "Markets don't like living in a world where they don't have an active Fed to support them."
Dow Jones industrial average (INDU), S&P 500 (SPX) and Nasdaq (COMP) futures were down between 0.7% and 0.8% ahead of the opening bell. Stock futures indicate the possible direction of the markets when they open at 9:30 a.m. ET.
U.S. stocks closed lower Tuesday, with momentum stalling after the Fed minutes were released.
Looking ahead, attention will focus to the jobs report for March, which is due out Friday. However, U.S. markets will be closed in observance of Good Friday and bond markets will close early.
Economy: Private-sector employers added 209,000 workers in March, according to payroll processing firm ADP. That was fewer than the 217,000 that economists had expected.
Reports on ISM Services and crude oil inventories will also be released mid-morning.
World markets: The European Central Bank said Wednesday that it was holding its main interest rate steady at 1%. ECB chief Mario Draghi will hold a press conference at 8:30 a.m. ET.
European stocks were lower in midday trading. Britain's FTSE 100 (UKX) dropped 1.3%, the DAX (DAX) in Germany fell 1.9%, and France's CAC 40 (CAC40) shed 1.4%.
In Asia, Japan's Nikkei (N225) tumbled 2.3%. Markets in Hong Kong and China were closed for the Tomb Sweeping holiday.
Companies: Agricultural tech firm Monsanto (MON, Fortune 500) raised its guidance and reported quarterly earnings that beat analyst expectations before Wednesday's open.
General Electric (GE, Fortune 500) shares fell 1.2% ahead of Wednesday's open after rating agency Moody's announced that it had downgraded the company's debt due to risks associated with its finance subsidiary, GE Capital Corp.
Shares of online gaming company Zynga (ZNGA) jumped 2.4% following a New York Post report that the firm is in talks with casino operator Wynn Resorts (WYNN) over a possible online gambling game.
IBM (IBM, Fortune 500) fell 1.4% and cruise ship operator Carnival Corp (CCL) eased 2.2% ahead of Wednesday's open on reports of analyst downgrades.
Burger King announced Tuesday that it planned to re-list on the New York Stock Exchange within 90 days after a deal in which its owners sold 29% of the company to a U.K. investment fund.
Currencies and commodities: The dollar gained against the euro and the British pound but fell against the Japanese yen.
Oil for May delivery slipped $1.05 to $102.96 a barrel.
Gold futures for April delivery fell $44.20 to $1,625.80 an ounce.
Bonds: The price on the benchmark 10-year U.S. Treasury rose, pushing the yield down to 2.24%.