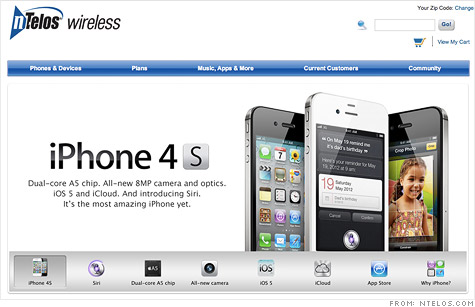 NTelos will become the fifth U.S. wireless carrier to sell the iPhone on April 20.
NEW YORK (CNNMoney) -- The most competitive iPhone deal doesn't come from Verizon, AT&T or even Sprint. It's from nTelos, a tiny regional carrier based in Virginia, which on Wednesday announced its bold bid to sell Apple's iconic smartphone at a discount.
NTelos (NTLS) will begin selling the iPhone on April 20 for $50 less than its competitors' prices. That means the 16 gigabyte iPhone 4S to will sell for $150, the 32 GB version will be priced at $250, and the 64 GB device will go on sale for $350. The carrier will also offer the 8 GB iPhone 4 for just $50.
The company is not the first regional carrier to sell the iPhone. C Spire, a Mississippi-based carrier, began selling the device in November, a month after the iPhone 4S first went on sale.
But with just 400,000 customers, nTelos is by far the nation's smallest cell phone provider to carry Apple's (AAPL, Fortune 500) smartphone. It has less than half the customer base of C Spire, and 0.4% of Verizon (VZ, Fortune 500) and AT&T's (T, Fortune 500) subscribership.
The company said having the iPhone serves as the great equalizer in the smartphone market.
"We've been competing against the iPhone in the market for far too long, frankly," said Jim Hyde, nTelos' CEO. "Now that we have the most iconic device, it levels the playing field with our competitors."
But when going up against the giant national carriers, Hyde says it wasn't enough just to be on equal footing. That's why the company decided to become the first carrier to sell the iPhone at a steep discount right off the bat.
That decision isn't without a sizeable risk. Carriers' profit margins have plummeted as the iPhone has flown off shelves, in large part because of the hefty up-front subsidies that carriers pay to get the iPhone down to $200 -- or $150, in the case of nTelos.
Like Verizon, AT&T, Sprint (S, Fortune 500) and C Spire before it, nTelos decided that the long-term reward was worth the near-term pain.
"The iPhone is going to increase smartphone penetration, which drives higher average revenue per user and reduces customer churn," Hyde said matter-of-factly. "We will have short-term pressure on our margins, but it's about driving profitability from our customers."
Hyde anticipated that iPhone customers will be 25% to 40% more profitable than the average nTelos customer.
If that's the case, then why did it take nTelos so long to get on board?
Negotiating with Apple isn't exactly a cakewalk. "We've been working on this for a very long time," Hyde said.
Apple has a strict set of criteria that its carrier partners need to meet, including a certain level of network investment and benchmarks for their retail operations quality. NTelos wouldn't disclose Apple's precise requirements, but Hyde described the company's standards as "high."
"We worked very closely with them to make sure we aligned with their criteria," he said.
NTelos' coverage area extends to nearly 6 million people in a region that includes Virginia, West Virginia, and portions of Maryland, North Carolina, Pennsylvania, Ohio and Kentucky.