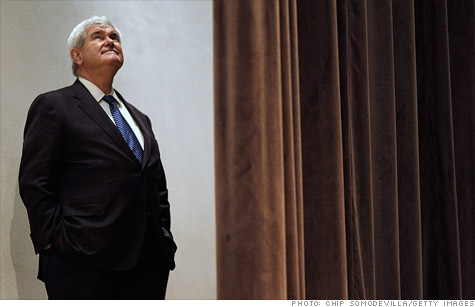 A think tank formerly run by Newt Gingirch has filed for bankruptcy.
NEW YORK (CNNMoney) -- The health care think tank founded by Newt Gingrich is going under.
The Gingrich Group, also called the Center for Health Transformation, filed for Chapter 7 bankruptcy protection Wednesday in an Atlanta federal court.
The filing shows the group owes 50-99 creditors between $1 and $10 million. It reported assets of less than $100,000.
The center's website was down on Thursday, but a cached version described the group as a "high-impact collaboration of private and public sector leaders committed to creating a 21st Century Intelligent Health System."
Gingrich, who has been struggling for months in the polls, ended his involvement with the center in May 2011, before becoming a candidate for president.
Stefan Passantino, general counsel to the campaign and former counsel to The Gingrich Group, said that "the company was extraordinary successful while he [Gingrich] was involved" and that the candidate provided excellent leadership.
"This in no way reflects on his ability to be a candidate or run a large organization. In fact it shows just the opposite, as it performed well under his leadership."
But the filing marks a sharp turnaround for what had been one of the most successful ventures in Gingrich's mini-empire of production companies, think tanks and consultancy businesses.
According to campaign disclosure documents filed with the Federal Election Commission, Gingrich himself has personal assets of between $7 million and $31 million.
But a large portion of that is a promissory note worth between $5 and $25 million from the Gingrich Group to Gingrich Productions, a Washington-based multimedia company that exists to market the Gingrich brand.
Gingrich and his wife Callista are listed as creditors in the bankruptcy filing, as is Gingrich Productions.
It was not immediately clear Thursday how much of that promissory note, if any, had been paid. Various phone numbers for The Gingrich Group appeared to be disconnected Thursday, and a spokeswoman did not immediately respond to a request for comment.
The center became part of the campaign discussion in January, when Gingrich, under fire for his work as a consultant to Freddie Mac, asked the group to release its consulting contract with mortgage giant.