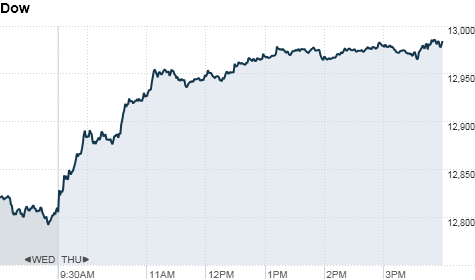 Click the chart for more stock market data.
NEW YORK (CNNMoney) -- U.S. stocks finished higher for a second straight day Thursday, continuing to recover from a modest pullback at the start of April.
The Dow Jones industrial average (INDU) rallied 181 points, or 1.4%, the S&P 500 (SPX) gained 19 points, or 1.4%, and the Nasdaq (COMP) added 39 points, or 1.3%. The day's gains were the best since March 13 for all three indexes.
Thursday's advance came despite a fairly bland round of economic news. Initial unemployment filings rose a bit more than expected, while a separate report showed no change in wholesale prices.
But investors pushed stocks higher, recouping losses from earlier in the month, as they welcomed declining yields on Spanish and Italian bonds and geared up for the first-quarter reading on economic growth in China, due Friday.
Recent data out of China have been mixed, raising fears of a sharp slowdown in the region. But Mark Williams, chief Asia economist for Capital Economics, said he expects China's first-quarter GDP to grow at least at an 8% annual rate, which "is low in historical terms for China, but far from the 'hard landing' that many have feared."
Investors were also continuing to shift their focus to first-quarter corporate results.
After the market closed Thursday, Google (GOOG, Fortune 500) beat earnings expectations, with a profit of $2.9 billion for the first quarter, up 61% from a year earlier, as revenue climbed 24% to $10.7 billion. The search giant also announced an unorthodox stock split.
Earnings from JPMorgan Chase (JPM, Fortune 500) and Wells Fargo (WFC, Fortune 500) are due Friday.
Following robust gains in the first quarter, stocks hit a rough patch at the start of the month, triggering five straight days of losses for the Dow and S&P 500. Both indexes lost more than 4% in that short stretch, as investors were hit with bad news from nearly every direction: fears of a slowdown in China, rising yields on Spanish and Italian bonds, and slowing job growth in the United States.
"We had a terrific start to the year, but there were three possible concerns always looming, and they all gave us a reason to pause," said Art Hogan, managing director at Lazard Capital Markets.
"Together, they acted as a catalyst for what was a long overdue correction," added Hogan, highlighting the 29% run-up in the S&P 500 since the one-year lows hit last October.
But Hogan said the rebound in stocks on Wednesday and Thursday is likely just a "brief pause in what will prove to be a shallow correction."
"I think we're going to see a lot more fits and starts during the second quarter, compared to the first three months of the year," he added.
The upcoming volatility will likely take its cue from corporate results releases, Hogan said. So far, investors have been relatively satisfied, but the reporting period is just getting underway, and expectations are bleak.
U.S. stocks closed higher Wednesday, bouncing back after a string of five down days, as concerns about Europe eased and hopes for a better-than-expected earnings season rose. Aluminum producer Alcoa (AA, Fortune 500) led Wednesday's gains after reporting a surprise first-quarter profit late Tuesday.
Economy: The Labor Department reported that initial jobless claims rose unexpectedly to 380,000 in the latest week, up from a revised reading of 367,000, which was also revised higher.
Separate reports showed no increase in overall wholesale prices in March, which was better than the 0.2% increase forecast, and the nation's trade deficit declined unexpectedly in February.
Companies: Shares of McKesson (MCK, Fortune 500) popped after the U.S. Department of Veterans Affairs awarded the wholesale pharmaceutical company a contract worth about $4 billion a year to supply medication to VA facilities.
Hewlett-Packard's (HPQ, Fortune 500) stock jumped following news that the company's PC sales in the United States grew by nearly 7% over the first quarter of 2011, outpacing every other competitor -- even mighty Apple (AAPL, Fortune 500) -- according to estimates compiled by tech research firms Gartner and IDC.
Rite Aid (RAD, Fortune 500) shares rose slightly after the drugstore chain reported a quarterly loss of 18 cents a share on $7.1 billion in revenue, in line with expectations.
Shares of Royal Dutch Shell (RDSA) fell sharply after the company said it had activated an oil spill response vessel to investigate a "light sheen" of oil spotted in the Gulf of Mexico, but recovered a bit in later trading.
Sony (SNE) said Thursday that it would be cutting 10,000 jobs during the 2012 fiscal year as it seeks to revitalize its struggling business. The electronics maker warned earlier this week that its annual loss would be twice as large as its prior forecast, blaming write-offs of deferred tax credits.
Oaktree Capital Group (OAK) started trading under the ticker OAK after the asset management firm raised $378 million through an initial public offering Wednesday. Oaktree sold 8.8 million shares at $43 apiece, the low end of its estimated range. Shares of the company finished lower in their stock market debut.
World markets: European stocks closed higher. Britain's FTSE 100 (UKX) gained 1.3%, while the DAX (DAX) in Germany and France's CAC 40 (CAC40) rose 1%.
Asian markets finished higher. The Shanghai Composite (SHCOMP) rose 1.8%, the Hang Seng (HSI) in Hong Kong climbed 0.9% and Japan's Nikkei (N225) gained 0.7%.
Currencies and commodities: The dollar slipped against the euro and the British pound and was flat versus the Japanese yen.
Oil for May delivery rose 94 cents to settle at $103.64 a barrel.
Gold futures for April delivery rose $20.50 to $1,679.50 an ounce.
Bonds: The price on the benchmark 10-year U.S. Treasury fell slightly, with the yield rising to 2.05% from 2.03% late Wednesday.