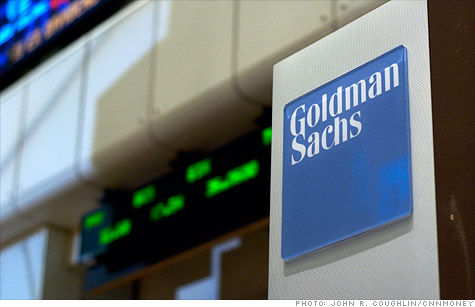 Goldman Sachs' earnings more than doubled in the first quarter, topping forecasts.
NEW YORK (CNNMoney) -- Goldman Sachs earnings more than doubled in the first quarter, as the Wall Street firm benefited from the best quarter for U.S. stocks in years.
Goldman (GS, Fortune 500) earned $2.1 billion, or $3.92 a share, up from $908 million, or $1.56 a share a year earlier. That easily topped the $3.55 a share in earnings forecast by analysts surveyed by Thomson Reuters.
The firm received the biggest boost from its institutional client services, where revenue jumped $2.7 billion from the fourth quarter to $5.7 billion. Revenue also more than doubled in its investing and lending business to $1.9 billion from $872 million a year earlier.
By comparison, the firm's investment banking business posted far more modest gains, and revenue slipped slightly in its investment management unit.
But revenue was down in all those units compared to a year earlier.
The results came as U.S. stock markets rallied, with the Dow Jones industrial average and S&P 500 both posting the biggest first-quarter gain since 1998.
Still it was a quarter that had some high-profile problems for Goldman, with an executive writing a scathing resignation letter that ran on the New York Times opinion page. He called the firm "toxic" and disrespectful of its clients.
Goldman's results follows a decline in earnings at JPMorgan Chase (JPM, Fortune 500) reported Friday, as well as Monday's slight drop profits at Citigroup (C, Fortune 500).