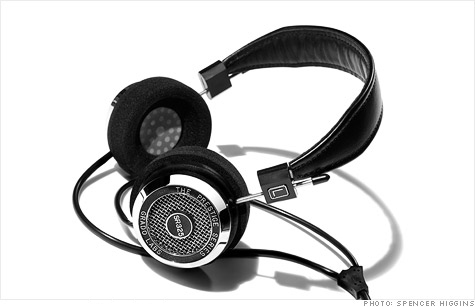 (MONEY magazine) -- Want higher-fidelity music from your portable music player or smartphone? Invest in one of these upgrades for your earbuds, and the payoff will be loud and clear.
Best-in-ear: Klipsch Image S4i
The sound: This set of buds performs above its price range, thanks in part to its snug, noise-isolating fit.
The feel: Comfy. You get four sets of silicone ear tips of assorted shapes and sizes.
Also noteworthy: A built-in microphone and call-answer button make it smartphone-ready. The two-year warranty is a rarity among in-ear phones.
Price: $100; klipsch.com
Best wireless: Sennheiser MM 100
The sound: You get natural treble and boomy bass without any cord to tangle on the treadmill.
The feel: The on-the-ear neckband fits securely. At 1.9 ounces, the set won't weigh you down.
Also noteworthy: It pairs easily with Bluetooth-equipped devices and has a rechargeable battery. Earphone buttons adjust volume and skip tracks.
Price: $150; sennheiserusa.com
Best overall sound: Grado Labs Prestige Series SR325is
The sound: These headphones provide an impressive sense of depth and space: When you hear Miles Davis's trumpet, it seems to come from a different direction than his drummer's cymbal. The overall sound is clear, and the bass is full but not overpowering. One caveat: Play your music loud enough and people nearby will hear Miles too.
The feel: Some audiophile head-phones are as big as coconuts, but this 14-ounce model is comfortable and balanced. Wear either cushioned ear cups or flat foam pads to suit your taste.
Also noteworthy: Can't stomach paying $300 for a set of headphones? Grado's SR80i model ($99) delivers similar high-quality sound, though less of the three-dimensional effect, at a third of the price.
Price: $310 (includes $15 for jack adapter); gradolabs.com
Bigger files, better sound
For even better sound, listen to files pulled from CDs instead of lower-quality downloads. And before copying CDs into your iTunes library, click on "Preferences" in the iTunes menu, then "Import Settings," and then select "Apple Lossless."
It's a quality-vs.-quantity tradeoff: Each individual string will gently weep when Eric Clapton plays his guitar -- but the file will take up at least double the space on your player.
Do you know a Money Hero? Money magazine is celebrating people, both famous and unsung, who have done extraordinary work to improve others' financial well-being. Nominate your Money Hero.