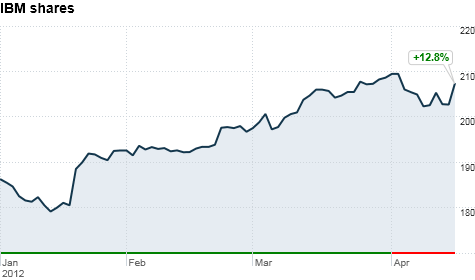 NEW YORK (CNNMoney) -- IBM posted first-quarter earnings Tuesday that beat analysts' estimates.
The tech giant reported a profit of $3.1 billion, an increase of 7% versus last year. Revenue for the quarter was $24.7 billion, up slightly from a year ago.
Excluding certain charges, earnings per share came in at $2.78, above estimates of $2.65. The company, which is the enterprise world's largest vendor, is one of the hottest stocks in tech and has consistently topped Wall Street profit expectations for the past few quarters.
However, shares of IBM (IBM, Fortune 500) were down 2% in after-hours trading as sales narrowly missed analysts' forecasts of $24.8 billion.
IBM expects the future to be brighter: It raised its full-year earnings per share estimates to "at least" $15, up from a previous forecast of $14.85.
"We delivered another excellent software performance, expanded services margins, and continued the momentum in our growth initiatives," IBM CEO Ginni Rometty in a release, citing those factors for IBM's decision to to raise its guidance.
Rometty, formerly the company's senior vice president for sales, marketing and strategy, succeeded CEO Sam Palmisano after he stepped down in October.
IBM has made a big push into software and services, two of the more rapidly growing and profitable areas of tech, over the past few years.
"When you look at our offerings in business analytics, cloud, and Smarter Planet, about half of the revenue is software," IBM CFO Mark Loughridge said during a conference call with analysts.
IBM's earnings report came on a busy day for the tech sector. Intel (INTC, Fortune 500) and Yahoo (YHOO, Fortune 500) also both released their latest financial results after the closing bell Tuesday.