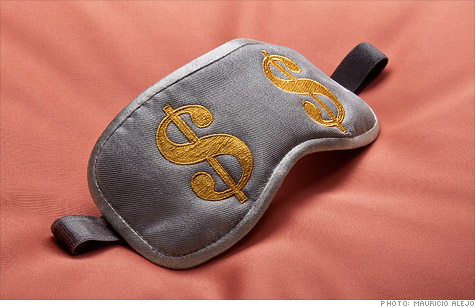 Missing sleep is costly - but so are some remedies. But better slumber doesn't have to be expensive.
(Money Magazine) -- Want to slash your health care costs, boost your brainpower, and increase your financial smarts? Get some sleep.
Too little sleep can bring on costly heath problems. A 2011 study by the University of California at San Diego and Harvard University concluded that men who most missed out on deep sleep were 83% more likely to develop high blood pressure.
Other research indicates that being tired is correlated to consuming too many calories. And if you've got permanent under-eye circles, you're likely to be losing career opportunities too.
A recent study published in the journal Sleep found that people lose productivity equivalent to about 11 working days each year because of insomnia. "Even if you show up at work after a night of insomnia, you might not do much of anything," says study author Ronald Kessler, professor of health care policy at Harvard.
Contemplating a big purchase or investing decision?
Not only does lack of adequate sleep impair decision-making, but neuroscientists at Duke University recently found that sleep deprivation changes the way your brain assesses economic value, making you more likely to take risks.
As science learns more about how lack of sleep impacts the body, alas, our accumulation of sleep is at a low, says Dr. Nancy Collop, director of the Emory Sleep Center in Atlanta. If you're having trouble settling down, use these strategies for resting easier.
If you have insomnia ...
Create a sleep routine. As any parent of young children can attest, a bedtime routine is a must.
Try these tricks, says Michael Breus, a psychologist who specializes in sleep disorders. An hour before bedtime, switch off all gadgets -- your blinking BlackBerry signals your brain to wake up.
Hop into a hot shower half an hour before you hit the sheets -- when your temperature falls afterward, your body releases the sleep-inducing hormone melatonin.
Ask about a prescription. If your insomnia is caused by a specific, temporary problem, a prescription sleep aid can give your stressed-out mind a break.
New ones, like Lunesta, aren't always covered by insurers and cost $3 or $4 a pill. But Collop says newer sleep aids aren't necessarily more effective than generic Zolpidem, a.k.a. Ambien. That costs only 50¢ to $1 a pill and is likely to be covered by insurance.
Call your insurer and HR department. Several large insurers, such as Aetna and Kaiser Permanente, offer free digital coaching on beating insomnia.
Invest in exercise. Join a gym, buy a bike -- people who get 150 minutes a week of moderate to vigorous activity report better sleep and less fatigue, say researchers at Oregon State University. Be sure to kick off the sneaks at least four hours before bed, or you'll be too wired to sleep.
If you wake up sleepy ...
Check for apnea. About one in five adults suffers from sleep apnea, or irregular breathing, which can limit rest. Ask your primary-care doctor to do an assessment or refer you to a specialist who can. Treatments for apnea are typically covered by insurance.
Get a cozier sleep space. Darkness produces the soundest sleep. Streetlight near your window? Buy blackout shades ($34 at Home Depot) or an eye mask (under $15 at Amazon.com). If noise is a problem, skip the $200 white-noise machine and download TMSoft's White Noise app for your iPad or iPhone ($1.99, Apple). Just be sure to turn off the iPhone ringer or set it to "airplane" mode.
If nothing's working ...
Try cognitive behavioral therapy. CBT, a form of therapy that seeks to train your mental habits, is one of the most effective methods of treating sleep ills, says Collop. Most people see improvement after four to six sessions, says James Walsh, director of St. Luke's Sleep Medicine and Research Center.
To find a therapist trained in CBT for insomnia, ask your doctor for a referral, or visit the American Academy of Sleep Medicine. CBT may be covered by insurance; if not, it's usually about $200 a session. And a good night's sleep is always a sound investment.
You aren't sleeping enough
Most Americans are still falling short of the amount of shuteye we need ...
Hours required: 8 hours
Actual hours: 6 hours, 55 mins
... even though we spend billions trying to improve our sleep.
Prescription sleep aids: $2 billion
High-end mattresses: $2 billion
Over-the-counter sleep aids: $203 million
Notes: Prescription sleep aid numbers are for 2010; over-the-counter are for 2011. Amount of sleep is the average for all adults.
Sources: IMS Health, Symphony IRI Group, National Sleep Foundation, International Sleep Products Association.
Do you know a Money Hero? MONEY magazine is celebrating people, both famous and unsung, who have done extraordinary work to improve others' financial well-being. Nominate your Money Hero.