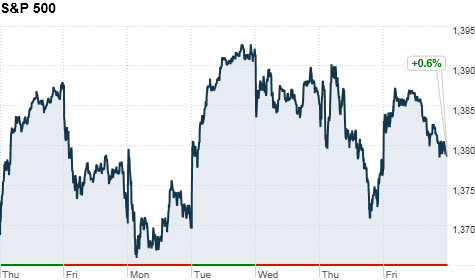 Click chart for more markets data.
NEW YORK (CNNMoney) -- Investors are gearing up for a week full of economic and corporate data. Europe will once again be difficult for even U.S. investors to ignore.
Several hundred U.S. companies are scheduled to report corporate earnings, but Apple (AAPL, Fortune 500)'s results will take center stage Tuesday, when the company reports its results.
Following a week where the high-flying stock fell by more than 11%, market participants will be watching whether the iPhone maker can continue to post results that will feed investors' ravenous appetite for the stock or whether any signs of a slowdown in Apple's growth could weigh on the overall market.
Investors will also be listening to every word uttered by Federal Reserve chairman Ben Bernanke during his press conference Wednesday afternoon following a two-day meeting by the Federal Open Market Committee.
The central bank isn't expected to announce any rate changes but the market could rally if Bernanke even hints at any actions that might ease monetary policy.
And on Friday the initial estimates of the gross domestic product of the United States will be released. If the figure falls below the expected 2.6% growth, chatter about another round of Fed easing could grow louder.
Meanwhile, investors will continue to monitor the status of Spain's and Italy's borrowing costs, which have been skyrocketing in recent weeks.
"Two months ago we were basically on cruise control going up, up, and away," said Dan Greenhaus, chief equity strategist at BTIG. "Now a lot more people are carefully assessing the macroeconomic risks." Spain's economy is among one of the gravest concerns right now, he added.
The IMF took a big step forward toward building a global financial firewall over the weekend after a number of its members pledged a combined $430 billion in additional resources at the fund's spring meeting last week in Washington, D.C.
That nearly doubles the amount the IMF has available to lend to countries in crisis.
French elections are also on investors' minds.
Before the market opens Monday, investors are hoping to have a better sense of whether France is leaning toward Socialist Party candidate Francoise Holland, who has been openly critical of Germany's plans to force European Union countries to cut budgets, or whether they'll throw their support behind current President Nicolas Sarkozy.
The final vote will be held on May 6th.
On Friday, investors will learn whether Japan's central bank will intervene to stem the rising price of the yen. Analysts think the bank could move to ease its monetary policy to push down the price of its currency at its Friday meeting. Unlike most other central banks around the world, Japan's central bank has wary about stepping in to help boost its markets.
After a choppy week on Wall Street, both the Dow (INDU) and S&P 500 (SPX) eked out gains of 1.4% and 0.6%, snapping a two-week losing streak. The tech-heavy Nasdaq (COMP) finished lower for a third straight week, dipping 0.4%.
On the busy corporate earnings calendar this week, pharmaceutical company Illumina (ILMN), which recently rebuffed its rival Roche Holdings' hostile takeover, and Netflix (NFLX) will release earning after the bell Monday.
3M (MMM, Fortune 500), ARM Holdings (ARMH), AT&T (T, Fortune 500) and Hershey's (HSY, Fortune 500) release earnings early Tuesday, and Apple releases results after Tuesday's market close.
Boeing (BA, Fortune 500), Delta (DAL, Fortune 500), Northrop Grumman (NOC, Fortune 500), and US Airways (LCC, Fortune 500) report ahead of Wednesday's open, and early Thursday, Aetna (AET, Fortune 500), Dow Chemical (DOW, Fortune 500), Colgate-Palmolive (CL, Fortune 500), Dunkin Brands (DUNK), Exxon (XOM, Fortune 500), Ford (F, Fortune 500), JetBlue (JBLU), Pepsi (PEP, Fortune 500) and UPS (UPS, Fortune 500). Amazon.com (AMZN, Fortune 500), Starbucks (SBUX, Fortune 500) and Zynga (ZNGA) report after the bell. On Friday, Procter & Gamble (PG, Fortune 500) reports before the bell.
Investors will be waiting to see whether earnings will continue to top forecasts. Of the 121 companies in the S&P 500 that have reported, more than 80% have beat expectations, according to Thomson Reuters. During a typical quarter, only about 60% of companies beat estimates.