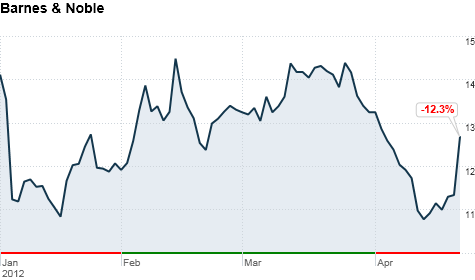 Barnes & Noble has been struggling to compete with e-retailers like Amazon.com.
NEW YORK (CNNMoney) -- Shares of Barnes & Noble spiked more than 10% Monday, after activist investor Jana Partners disclosed it had taken a 12% stake in the book retailer in recent weeks.
Jana Partners, known for pushing for breakups or sales, could add pressure on Barnes & Noble (BKS, Fortune 500) to sell or spin off its Nook e-reader business, an option that Barnes & Noble's CEO said the company was considering in January.
Alternately, Jana Partners could call for Barnes & Noble to consider a sale of the entire company.
Jana has a pattern of taking stakes in companies and then pushing for action. This year, it convinced Marathon Petroleum (MPC) to both buy back shares and consider a possible sale of its company.
"They come in with very well conceived and highly researched ideas and they're very good at persuading boards and management," said Kenneth Squire, president at 13D Monitor, a research service on shareholder activism.
The hedge fund has not said whether its stake is active or passive. If Jana Partner intends to influence management to sell or make changes through a board seat, the company would have to file a 13-D with the SEC, which they have not yet done. Jana Partners did not return requests for comment
Last year, Jana Partners pushed McGraw-Hill (MHP, Fortune 500) to split up into two units. TNT Express, a European logistics company, also sold itself to UPS (UPS, Fortune 500) for nearly $7 billion after Jana Partners purchased a stake in the company.
Barnes & Noble's other big shareholders include Yucaipa's Ron Burkle and Liberty Media (LMCA), which unsucessfully tried to purchase the retailer in May 2011.
The bookseller has been struggling to compete with online retailers, notably Amazon.com (AMZN, Fortune 500). Its Nook e-reader has also had trouble competing with Amazon's Kindle.
In January Barnes & Noble slashed its 2012 forecasts, predicting a loss of at least $1.10 per share. Its stock was down roughly 22% in 2012 as of Friday's market close.