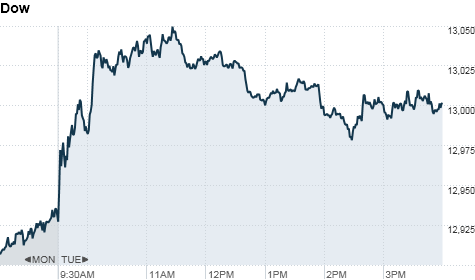 Click the chart for more stock market data.
NEW YORK (CNNMoney) -- U.S. stocks finished mixed Tuesday, with the Dow holding onto solid gains, while Netflix's disappointing outlook weighed down tech stocks.
"Stocks are moving higher today on the back of decent earnings reports, but overall, I think investors are wondering whether the economic and market momentum that boosted stocks from last October through March is starting to fade," said Michael Sheldon, chief market strategist at RDM Financial Group.
Two reports released early Tuesday showed the housing recovery is still on shaky ground. S&P/Case-Shiller reported another decline for home prices in February, and the U.S. Census reported that new-home sales dropped 7.1% in March.
The Dow Jones industrial average (INDU) rose 74 points, or 0.6%, boosted by better-than-expected earnings from AT&T (T, Fortune 500) and 3M (MMM, Fortune 500).
The S&P 500 (SPX) added 5 points, or 0.4%. Hershey (HSY, Fortune 500), which surged to a 7-year high, and Baker Hughes (BHI, Fortune 500) were among the top gainers. Both companies also topped first-quarter earnings estimates.
The Nasdaq (COMP) slid 9 points, or 0.3%, dragged lower by declines in big technology players including Netflix (NFLX) and Apple (AAPL, Fortune 500).
Shares of Netflix tumbled almost 14% Tuesday, a day after the company posted a first-quarter loss and issued a weak outlook.
Apple, the world's most valuable company, reported earnings after the market closed. Shares of the iPhone and iPad maker have been struggling lately, and finished Tuesday 13% lower since hitting an all-time high earlier this month.
The stock spiked in after-hours trading after Apple's fiscal second-quarter earnings results blew past Wall Street's expectations. The company posted $39.2 billion in sales, nearly 60% increase from last year, while earnings nearly doubled to $11.6 billion.
During the last two years, stocks have performed strongly during the first quarter, only to deteriorate into the summer before recovering again, noted Sheldon.
While he remains positive on the market's outlook this year, he said Europe continues to be an issue.
"Europe remains a mess," said Sheldon. "The question we're asking is, 'Does it get worse from here before it get better?'"
The week began with a downward push on stocks, driven by European political uncertainty and signs of a slowdown in the Chinese economy. All three major U.S. indexes ended lower Monday.
World markets: Some of the political worries in Europe cooled Tuesday, a day after the Dutch prime minister resigned due to the collapse of his governing coalition. Despite his resignation, an auction of nearly €2 billion in bonds by the Netherlands went well Tuesday, sending yields of the nation's benchmark bonds slightly lower.
Spain, whose finances have also been a growing concern in recent weeks, also had a successful bond auction of nearly €2 billion. Its yields fell as well.
European stocks closed higher. Britain's FTSE 100 (UKX) ticked up 0.8%, the DAX (DAX) in Germany added 1%, while France's CAC 40 (CAC40) climbed 2.3%.
Asian markets ended mixed. The Shanghai Composite (SHCOMP) and Hong Kong's Hang Seng (HSI) ended slightly above breakeven, while Japan's Nikkei (N225) slid 0.8%.
Economy: Home prices hit yet another post-bubble low, according to the February reading of the S&P/Case-Shiller Home Price Index. Prices were down 3.5% from a year earlier, at their lowest level since November 2002. The data came in slightly worse than the 3.4% annual decline expected by economists surveyed by Briefing.com.
The U.S. Census reported that new-home sales dropped 7.1% in March to an annual rate of 328,000. Economists were expecting sales to come in at an annual place of 318,000.
The March Consumer Confidence Index, which speaks to the public's degree of optimism, fell to 69.2 in April, from 70.2 the previous month. Economists were expecting a reading of 69.5.
Companies: One of the busiest weeks for corporate results continued, with several heavyweights reporting first-quarter numbers.
In addition to AT&T and 3M, Dow component United Technologies (UTX, Fortune 500) also posted a better-than-forecast rise in earnings.
Texas Instruments' (TXN, Fortune 500) quarterly earnings dropped sharply, marking the fourth consecutive quarter of falling profits, sending shares lower. Despite the recent performance, the company issued an upbeat outlook for growth.
About a third of the companies in the S&P 500 have reported results, and more than 75% have exceeded analyst expectations, according to Thomson Reuters. In a typical quarter, a little over 60% of companies beat estimates.
Meanwhile, shares of Big Lots (BIG, Fortune 500) plunged more than 24% after the company revised its first-quarter outlook for U.S. same-store sales, a key measure for retailers, lower from its March forecast. Last month, the discount retailer estimated same-store sales would rise between 2% and 4% during the first quarter. Now, Big Lots said it expects sales to be "slightly negative."
IBM (IBM, Fortune 500) boosted its quarterly dividend 13% to 85 cents per share, marking the 17th straight year of increases. The company's board also approved a $7 billion share buyback program.
Following Tuesday's closing bell, Chinese Internet giant Baidu (BIDU) reported solid first-quarter financil results, but the company's second-quarter sales outlook was below expectations, sending shares lower.
Currencies and commodities: The dollar lost ground against the euro and the British pound, but rose versus the Japanese yen.
Oil for June delivery rose 44 cents to settle at $103.55 a barrel.
Gold futures for June rebounded, gaining $11.20 to settle at $1,643.80 an ounce.
Bonds: The price on the benchmark 10-year U.S. Treasury were lower, pushing the yield up slightly to 1.96% from 1.93% late Monday.