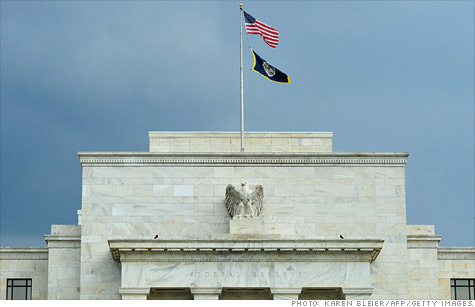 Federal Reserve policymakers are likely to do little more than tweak their economic forecasts at their meeting this week.
NEW YORK (CNNMoney) -- The Federal Reserve's top policymakers are meeting behind closed doors for two days, tweaking their economic forecasts and reevaluating their game plan for boosting the U.S. recovery.
But anyone hoping for big news is likely to be disappointed when that meeting concludes Wednesday. Given muddled economic data lately, the Fed will probably do little more than repeat itself.
"They're not likely to take any action at this meeting, other than to verify that they'll continue to have a high accommodative policy stance," said Kevin Logan, chief U.S. economist for HSBC Securities.
At its last two meetings, the central bank's Federal Open Market Committee decided the economy would likely be weak enough "to warrant exceptionally low" interest rates "at least through late 2014."
Not much has changed since then.
Sure, the unemployment rate slipped to 8.2%, but Fed Chairman Ben Bernanke is skeptical it will keep falling consistently. Economic growth simply hasn't been strong enough to warrant strong job growth going forward, he said last month.
As if Bernanke had looked into a crystal ball when he gave that speech, job growth hit a speed bump in March. Companies added only 120,000 jobs, after hiring more than 200,000 workers for three months straight.
Meanwhile, higher gas prices have not led to massive increases in prices for other goods just yet. Core inflation has remained just under the Fed's goal of 2% a year. That gives the central bank little incentive to start raising interest rates any time soon.
Adding to the murky picture, home prices have continued to fall, breaching 10-year lows. Europe's debt crisis and stock market volatility are back in full swing. But at the same time, retail sales have posted solid gains and U.S. manufacturers have continued to rebound.
The Fed has kept its key interest rate near zero since late 2008 in an effort to give businesses and consumers cheaper access to credit.
As an additional stimulative step, the Fed has also enacted two rounds of asset purchases known as quantitative easing, and a program shifting $400 billion from short-term to long-term bonds. That policy, known as Operation Twist, is likely to stay in place until its completion in June.
What's next? Probably not much until the Fed can get a clearer picture of the economy.
Three out of four economists surveyed by CNNMoney say the Fed should not enact a third round of quantitative easing or other stimulative policies this year.
Minutes from the Fed's March meeting also show policymakers are leaning away from that option. Only "a couple" members were in favor of more asset purchases, as opposed to two months earlier, when a "few" supported the idea.
The Fed will announce its official policy action at 12:30 p.m. ET Wednesday. Later in the afternoon, it will release its revised economic projections and Bernanke will answer reporters' questions at a press conference.
At its January meeting, the central bank said it expects the unemployment rate to fall to between 8.2% and 8.5% by the end of this year, and the economy will grow between 2.2% and 2.7%.
Economists are expecting only minor fine-tuning to those forecasts, predicting slightly stronger economic growth and a lower unemployment rate at the end of 2012. That will not be significant enough to warrant a change in policy though.
"Overall, there is little reason for the FOMC to take a step in either direction at this meeting," Paul Ashworth, chief North American economist at Capital Economics said in a note to clients. "The Fed's best option is to stay on the sidelines waiting to see which way the recovery breaks."